Leslie Morishita points to clusters of origami cranes hanging from the ceiling of the entryway at Hirabayashi Place. The multicolored cranes, she says, represent world peace, but they are also examples of an art installation that can connect a building to the history and culture of its surrounding neighborhood.
Image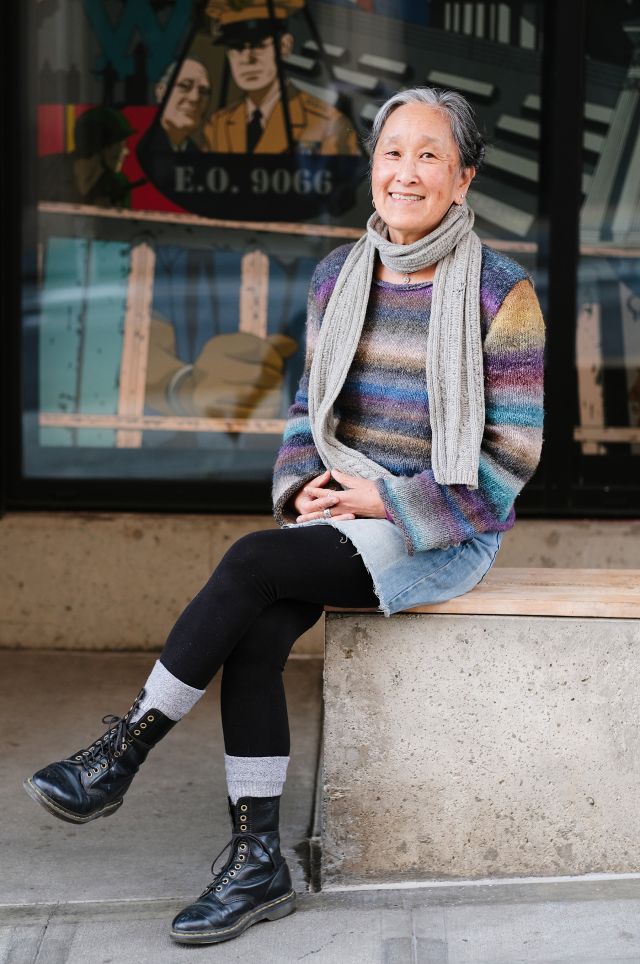 "We see every development as a stake in the ground," says Morishita, real estate development director for InterIm CDA, the nonprofit affordable housing and community development organization credited with this mixed-use property in Seattle's Chinatown International District. "Housing is fundamental, but we also want to take every opportunity to serve this community. We include a focus on art to lift the history and culture of the place and engage the community that's here."
On a recent morning in Seattle, residents filtered in and out of the seven-story building. In the attached childcare center, children played in brightly decorated classrooms. Artwork and commemorative plaques adorned the walls, pointing to the legacy of the building's namesake.
Hirabayashi Place, which was completed in 2016 and features 96 apartments for individuals and families with lower incomes, combines sleek and colorful design with functional common spaces. El Centro de la Raza operates the Jose Marti Child Development Center on the ground floor. A rooftop patio for residents and an enclosed children's play area offers panoramic views of the Seattle waterfront and downtown cityscape.
Culturally Appropriate Development
The building's name honors a local hero as well as the historic Japanese corner of Seattle's Chinatown International District. "This was a bustling Japanese American community until the bombing of Pearl Harbor and then everyone was forcibly removed and incarcerated, and the neighborhood collapsed," Morishita says. "Now there is movement to lift its history and cultural identity. Gordon was a local guy and meant a lot to this area."
Gordon Hirabayashi, a sociologist who died at age 93 in 2001, was a University of Washington student during World War II when he was imprisoned for defying the federal government's forced removal and incarceration of Japanese Americans. The son of Japanese immigrants, HIrabayashi followed the pacifist principles of his parents, who had once belonged to a Japanese religious sect similar to the Quakers. Four decades – and several appeals later – his conviction was overturned, and he remains an important symbol of social justice for the International District and beyond.
Image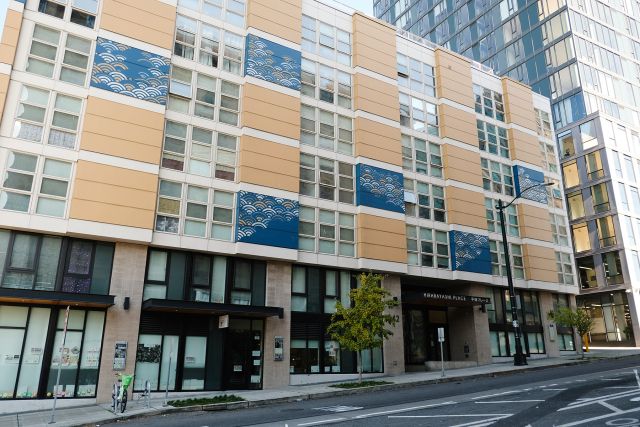 In addition to the floating cranes, the main entrance features a painting by renowned artist Roger Shimomura, whose family was imprisoned at the Minidoka site in Idaho when he was three years old.  The painting depicts Hirabayashi's life, with accompanying panels inscribed with poetry by the local author Larry Matsuda, who was born at Minidoka. The building's community meeting room was named after another local hero, Donnie Chin, who founded the International District Emergency Center, leading a group of young first responders as unofficial guardians of the neighborhood. Outside the building, quotations from Hirabayashi are carved in basalt pavers around the base of the building.
"There are so many layers of meaning in this building," says Morishita. Hirabayashi's legacy is especially meaningful to Morishita because her parents were both imprisoned with their families during World War II.
Stand up for Justice
The $32 million building was completed in 2016 but Hirabayashi Place's genesis began many years before. The neighborhood, right next to a regional transit hub and Seattle's tech-heavy downtown, has experienced "extreme gentrification and displacement pressure," Morishita said. InterIm CDA was able to purchase an initial parcel in 2010, but it took several years to acquire the remaining two parcels to start construction.
 "We went through different iterations – first it was going to be a partnership with the owners next door and then that fell apart," she says. "The heart of it is always to get housing for low-income people and there is a crushing need for affordable housing in this community."
During construction, more than 100 volunteers folded 3,000 origami cranes to spell out "stand up for social justice" on the temporary exterior.
Image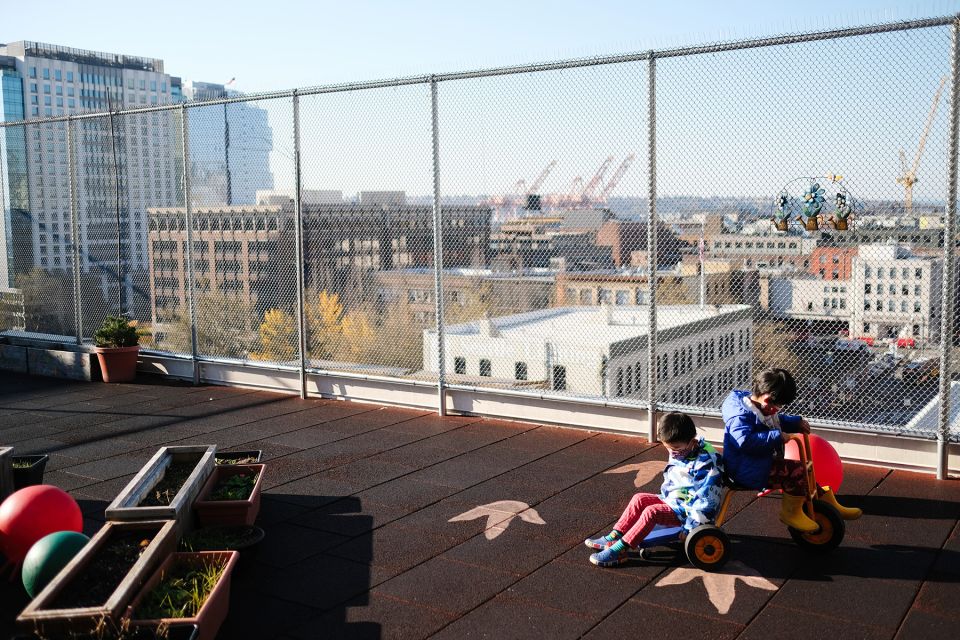 Starting With a Toolshed
Morishita made her way to Seattle – and ultimately to InterIm CDA – as an architecture graduate student at the University of Washington in the 1980s. To help bring diverse perspectives to her school, she and some other students organized visits from community groups – and one of those groups was InterIm CDA. "As a student, I was struck that architecture was a very white field," she says.
Inspired by a presentation by InterIm CDA leader and community activist Bob Santos, Morishita asked what she could do to get involved. The response? Help us build a toolshed for the Danny Woo Community Garden. Morishita jumped at this opportunity, embarking on an independent study project that included designing and building the toolshed.
"That toolshed is still there as part of this community – and so am I," Morishita says.
Part of the Neighborhood
Hirabayashi Place answered a need to provide affordable homes to residents with lower incomes, many of whom come from outside the neighborhood and include more recent immigrants from parts of Asia and Africa. For InterIm CDA, the apartment building is part of the organization's efforts to reinforce and revitalize the district with what Morishita calls culturally appropriate and community-based development.
The organization's most recent affordable housing development, called Uncle Bob's Place, is named after Santos, who spent much of his career fighting gentrification in the neighborhood. Residents are already starting to move into the new building, which also features artwork from local artists with a focus on inspiring activism and advocacy to protect the people and culture of the neighborhood.
"There's a big distinction between community-based development and general affordable housing development," Morishita adds. "With all our buildings we try to create an environment where people can be their full selves and be comfortable and know they belong."