More than 200 housing developers, tribal partners, homeless service providers, public agency representatives, and elected officials from across California came together to celebrate the successes, discuss the challenges, and consider future needs in solving homelessness at our recent conference – A Common Cause: Unlocking Homekey. .
Enterprise, in partnership with the California Department of Housing and Community Development and with support from title sponsor Wells Fargo, hosted the daylong convening on April 28 in Sacramento where participants learned from each other and inspired strategic thinking on applying for and executing Homekey, the state's unprecedented $3.75 billion initiative to address the homelessness crisis. 
"California is the fourth largest economy in the world. Yet we have so many unhoused," said Heather Hood, Enterprise VP and Northern California market leader. "We're here today because people shouldn't have housing by privilege or luck."
Image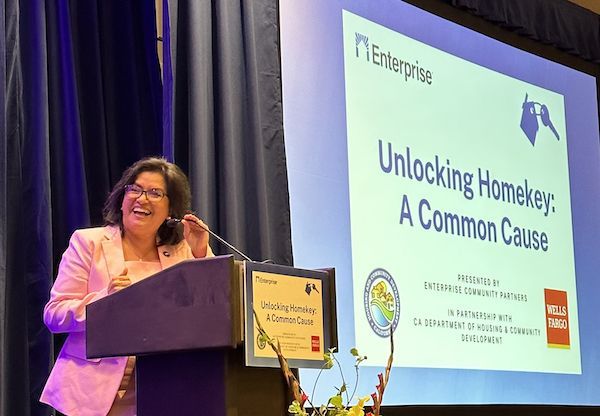 Lourdes Castro-Ramirez, Secretary of the Business, Consumer Services and Housing Agency (BCSH), spoke about the impetus and origin of Homekey to convert hotels and motels into housing early on in the Covid-19 pandemic. 
"There were many skeptics, but organizations up and down the state showed that with the resources and support that it was possible," Lourdes said. "Homekey has proven time and time again the power of collaboration. When we work together, we are stronger, and there is not a problem we cannot solve."
Learning, Consulting and Collaboration
Conference participants had the opportunity to meet one on one with California Department of Housing and Community Development staff to discuss their Homekey projects and applications. They also attended presentations and question-and-answer sessions with state employees on the Round 3 Notice of Funding Availability (NOFA) and the Tribal-Specific Homekey NOFA set to be released this summer.
Breakout sessions covered essential topics including Housing First, working in collaboration with local partners to select and acquire a site, property operations, housing for youth experiencing or at risk of homelessness, rural-specific supportive housing issues, and rehabilitation, remediation and renovation.
 
Mayors Martha Cardenas-Singh of El Centro and Matthew Serrato of Merced as well as former Oakland Mayor Libby Schaaf spoke on a panel about the impact that Homekey has had in their communities in reducing homelessness and delved into other challenges and successes.
Thanks to Homekey funding, these cities were able to convert motels into senior and family housing, create container homes for homeless veterans, purchase homes for group living in high-opportunity neighborhoods, and create a tiny home village for community college students.
"It really matters to see that these programs are working," said Schaaf. "We need to tell this story better."
Inspiring Future Work
BCSH Deputy Secretary of Housing and Consumer Relations Sasha Kergan provided inspirational remarks during the lunch keynote. The conference closed out the day with Lisa Rice, President/CEO of the National Fair Housing Alliance, delivering a moving address that shed light on where chronic homelessness comes from and why it occurs while calling everyone to action and do the work to ensure equitable housing opportunities for all. 
"Fair housing is connected to homelessness," Rice said. "Often we address the symptoms and not the cause of the disease [racial inequity]."
On April 27, some conference attendees joined a pre-conference tour of Vista Nueva, a Homekey site in North Natomas, Sacramento. Jamboree Housing staff gave a presentation about their work transforming the former motel into permanent supportive housing, and one of the residents shared the journey that brought her to the Vista Nueva family.
Image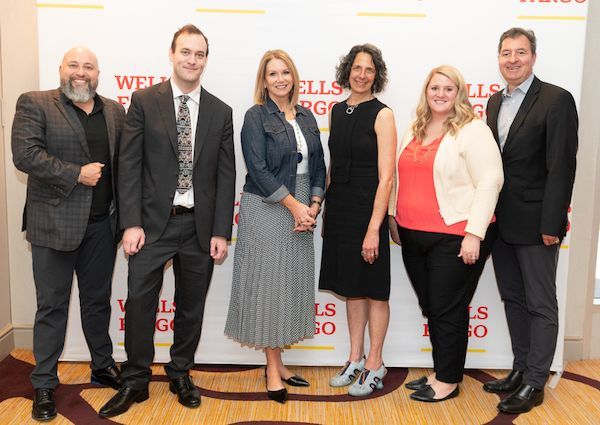 A special thanks goes out to our partners at the Wells Fargo Foundation, specifically Amy Anderson, Senior Vice President and Social Impact Lead, for her bold vision, deft panel moderation, and commitment to serving the needs of California's most vulnerable unhoused residents. We would also like to thank the housing advocates and experts who put on insightful and valuable breakout sessions; and the HCD Homekey staff that led NOFA breakout sessions and met with potential applicants and grantees. Last but certainly not least, thank you to everyone who attended the event! 
Our Homekey Work Continues
Beyond bringing us the incredible Homekey Conference, our Enterprise Northern California staff are engaged in a variety of Homekey-related efforts, led by Shanon Lampkins and Julian Tucker.  
The team is excited to relaunch the Homekey Peer Learning Cohort Training Sessions and a new learning opportunity, the Property Operations Roundtable. The cohort provides critical learning and networking opportunities for grantees to share promising practices, discuss key issues and opportunities as project needs evolve over time, learn from subject matter experts, and identify and work together to solve cross-cutting concerns or issues.
The cohort will include Homekey philanthropic operating subsidy grantees from Round 1 (awarded in 2020) and Round 2 awardees that received application support technical assistance from Enterprise's partners in 2021-22. Sessions are open to all Homekey team members including local community partners, public agencies, affordable housing developers, and service providers. 
Image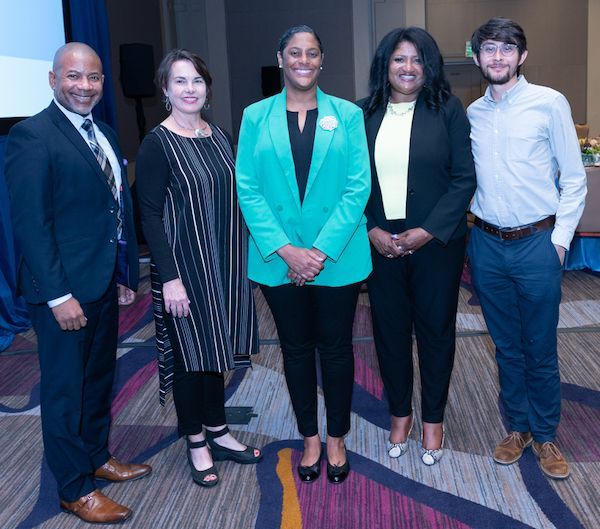 Peer Learning Cohort trainings will occur monthly starting in May and feature presentations from subject-matter experts and discussion of some of the most challenging implementation issues facing Project Homekey leaders. Upcoming topics include how to deepen collaboration between social services and property management, how to implement Housing First, Harm Reduction and Trauma Informed Care principles in Homekey projects, and how to build sustainable operating and support services budgets. 
The Property Operations Roundtables will also be held monthly starting in June and will feature facilitated discussions among Homekey participants about the day-to-day questions that they face operating their Homekey projects. DISH (Delivering Innovation in Supportive Housing), a California-based non-profit property management company that specializes in managing supportive housing, will be facilitating discussions with Homekey leaders about topics like working with tenants who are not paying rent, dealing with tenant behavioral issues like overdoses and hoarding, and tackling facilities issues like bed bugs and water damage. 
Lastly, our team is gearing up to lead the technical assistance program for Round 3 of Homekey. They have a bench of consultants with expertise in financial modeling, permanent supportive housing, affordable housing finance, property operations, tribal issues, and more ready to assist under-resourced jurisdictions successfully apply for and receive Homekey grant funding to implement housing solutions in their communities. 
To learn more, please contact Shanon Lampkins.