Three years ago, residents, public officials, small businesses and community-based nonprofits came together to ensure affordable homes were preserved and equitable community development was promoted as a major transit investment, the Purple Line, is built in Montgomery and Prince George's counties in Maryland.  
In December, about 200 community stakeholders gathered at Silver Strings in Silver Spring, Maryland, to celebrate equitable development near the Purple Line, the new light rail under construction. The celebration was hosted by the Purple Line Corridor Coalition (PLCC), in partnership with Enterprise Community Partners' Mid-Atlantic office.  
Reasons to Celebrate 
Image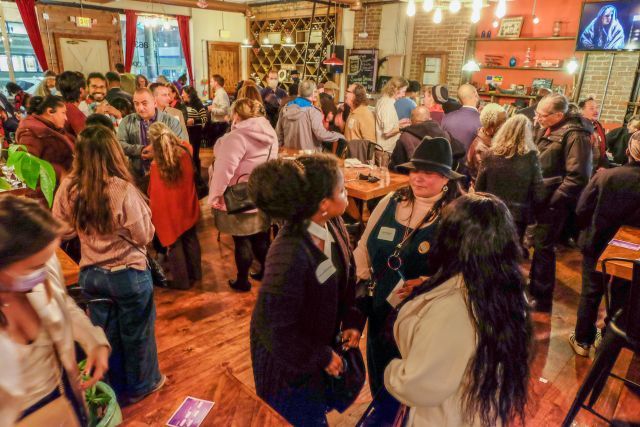 The PLCC aims to maintain or create more affordable homes for existing and new residents and a vibrant small business community to serve them and continue to provide economic opportunity.  
 
Members of the PLCC worked tirelessly to ensure current residents, community groups and local businesses have the necessary resources to share in the benefits of the Purple Line and avoid disruptions that typically accompany large-scale infrastructure projects.
Among these accomplishments: 
Preserved and increased equitable development near the Purple Line

860+ affordable homes built or kept affordable

1,500+ planned affordable homes

Provided resources to long-standing small businesses with strong community roots through the Latino Economic Development Center (LEDC)

$798,000 in loans to 23 small businesses
$549,000 in JPMorgan Chase-supported loans made to 11 small businesses

Increased reach and services of community development financial institutions (CDFIs) into more communities in Prince George's and Montgomery counties
Advocated for communities around the Purple Line

Secured appropriation in Montgomery County of $40 million for a Naturally Occurring Affordable Housing (NOAH) Fund  
JPMorgan Chase invested $5 million to support affordable housing and community development along the Purple Line. Alfonso Guzman, Mid-Atlantic regional director at JPMorgan Chase, highlighted the importance of working together to realize the impact of the Partnerships for Raising Opportunity in Neighborhoods (PRO Neighborhoods) investments. He said, "It's imperative that we work together, as part of a broader community…When the government, the public sector, and the private sector come together and focus on what needs to be done, great things can happen." 
Image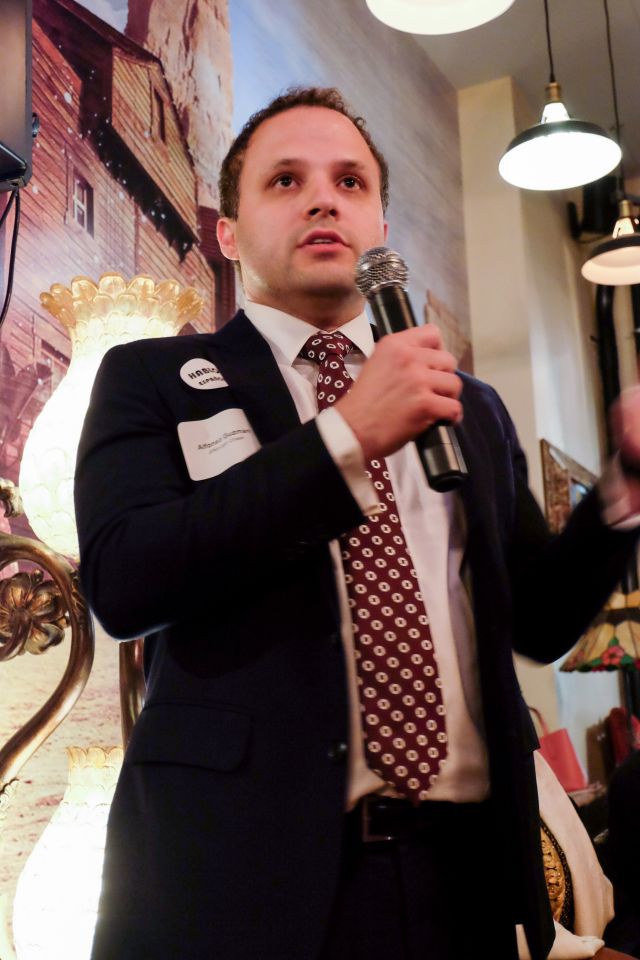 Many of these "great things" were on full display through a lively discussion led by Donovan Harvey of the Urban Institute. 
Shellon Fraser of National Housing Trust (NHT) Community Development Fund, and Javier Rivas of LEDC represented CDFIs that provided crucial loans made through the PRO Neighborhoods grant. 
Stephanie Roodman of Montgomery Housing Partnership (MHP), a nonprofit housing developer, and Tinu Ogunsalu, owner of Queensway Restaurant, received resources from NHT and LEDC and shared their experiences as part of the discussion. 
Three Key Takeaways 
1. Recognize impact in all forms. 
When asked about the grant's greatest impact, speakers highlighted the effects in different ways. For instance, being able to stay in the Riverdale community is important to Ogunsalu. Queensway Restaurant has been in the Riverdale community since the late 1990s and seeks to highlight and share African culture and cuisine.  
Ogunsalu credited the restaurant's loyal customers with being able to weather disruptions due to the pandemic and construction of the Purple Line, which "has affected us a whole lot." She recognized LEDC's help in applying for the federal Paycheck Protection Program as "critical to help pay our staff."  
Fraser stressed that the Purple Line Capital Pool, which was seeded with JPMorgan Chase's grant and matched by another coalition member, Kaiser Permanente, does more than finance homes. It keeps people in their community, where they have deep connections. It also creates better homes for people to live in. Roodman shared the transformation of Hillwood Manor in Takoma Park, which had more than 500 code violations when MHP bought it, from "ugly duckling" to "shining jewel."
Both LEDC and MHP pointed to another exciting outcome of this grant: They can do more.
Rivas noted that LEDC assisted nearly 200 small businesses with a range of services, such as marketing, policy advocacy, succession planning, and grant writing, and expanded these services into Prince George's County. Across the corridor, he estimates LEDC has invested 800-plus hours of their time and expertise, in addition to more than half a million dollars in low-cost loans supported by JPMorgan Chase's grant.
Roodman called their $800,000 Purple Line Capital Pool loan "a great asset that freed up other [organizational] funds for other projects." 
2. Teamwork makes the dream work. 
Speakers throughout the celebration emphasized how partnerships and collective leadership have been central to realizing more equitable development near the Purple Line. 
The event celebrated the contributions of those in the room, representing organizations from across the corridor; Gerrit Knaap, outgoing director of the National Center for Smart Growth; and outgoing elected leaders, Danielle Glaros and Deni Taveras (Prince George's County) and Hans Reimer and Tom Hucker (Montgomery County). Their collective leadership has brought focus and support to the Purple Line, the communities around it, and the coalition's goals.  
Laura Searfoss, Mid-Atlantic senior program director at Enterprise, called the coalition's ability to "bring together people from different parts of the corridor, from all different backgrounds, doing all different types of work to make a difference" one of the most powerful things about the PLCC. 
Image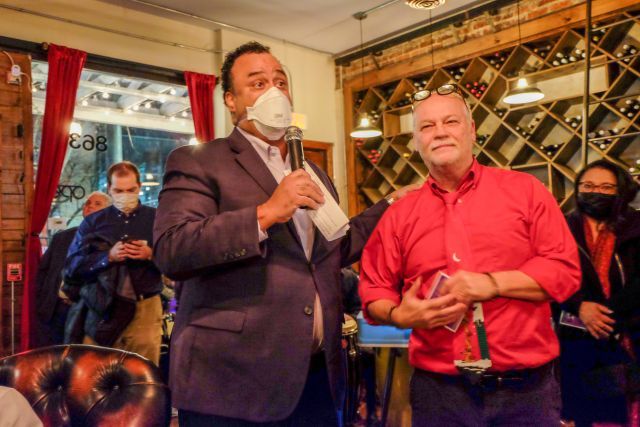 3. Everyone has a role in achieving the goals. 
David Bowers, Enterprise's vice president and Mid-Atlantic market leader, reminded the crowd that "the work ain't done."  
There's a need for ongoing commitment to the existing families and small businesses living near the Purple Line and those who want to live near the transit line in the future, a sentiment echoed in a recent PLCC report.  
The PLCC's Housing Action Plan sets a goal to add or keep 17,000 homes affordable to families or individuals earning about $70,000 per year. Based on recent analysis completed by the National Center for Smart Growth, PLCC is about halfway to that goal, even after accounting for significant progress. Ogunsalu shared the ongoing challenges that small businesses near the Purple Line face, including continued disruptions due to light rail construction, short-term lease offerings, and safety and security. 
Looking ahead to 2023, Bowers said, "everyone in the room has a role to play," including those who can provide financial resources, pass policies, offer technical know-how, and organize their neighbors to bring continued focus and visibility to community needs and aspirations.