David Bowers
VP, Mid-Atlantic Market & Sr. Advisor, Faith-Based Development Initiative
David Bowers is vice president, Mid-Atlantic market and senior advisor, Faith-Based Development Initiative for Enterprise Community Partners. David's work includes facilitating affordable housing and community development transactions, and policy implementation in collaboration with public and private sector stakeholders in the Baltimore and Washington, D.C. metropolitan areas. David leads a team that provides access to financing, capacity building and technical assistance to local developers, and participates with local coalitions advocating for increased resources for affordable housing and community development.
Throughout David's tenure, his team co-initiated and co-convened the Housing Leaders Group of Greater Washington, lead the Purple Line Corridor Coalition, initiated several efforts including the Faith-Based Development Initiative, as well as a transit-oriented preservation and resident displacement prevention initiative (GreenPATH), and the D.C. Green Communities Initiative.
Prior to joining Enterprise,  David was a program manager for a single-family housing program at the AFL-CIO Housing Investment Trust. Before joining the trust, David was a financial and programs advisor at the Community Development Financial Institutions (CDFI) Fund. Before that, he worked in the office of U.S. Senator Barbara A. Mikulski, at the time the ranking member of the Senate VA-HUD Appropriations Committee.
David earned his bachelor's degree from the University of Virginia and his Master of Divinity degree from Howard University. He is an ordained minister and the founder of the all-volunteer NO MURDERS DC movement, launched in 2000.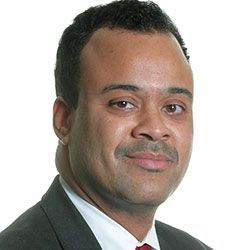 202.649.3925
Office Location
Washington, D.C.
10 G Street NE
Washington, DC 20002