The Purple Line is a nearly $10 billion, 16.2-mile light rail project that is set to connect Maryland suburbs in Prince George's and Montgomery Counties. Design and construction on the rail line began in 2016 and is expected to be complete in 2027. The Purple Line will enhance neighborhood connectivity, and groups like the Purple Line Corridor Coalition (PLCC) see this project as a way to uplift historically marginalized communities through support and investment. At the same time, it poses a threat to the very communities it aims to serve, even before its construction reaches completion.
According to a recent study on gentrification and business closures in the Purple Line Corridor, data indicates a correlation between the proximity to Purple Line stations and an increased likelihood of small businesses closing. Between 2010 and 2018, we saw a decline in the number of small businesses near the Purple Line. In 2023, the market has been impacted by a recession, post-pandemic effects, and the construction of the Purple Line. In short, these businesses are dealing daily with three major sources that directly influence them. With several years of construction left, this project continues to be disruptive to the small businesses that provide a sense of community for those in the multicultural corridor that the Purple Line cuts through.
Alongside partners in the Purple Line Corridor Coalition, the Latino Economic Development Center (LEDC) works to ensure that small businesses stay open and prosper, especially in light of construction delays. Our mission and vision stand at the core of our efforts, aiming to ensure stability and safeguard the interests of small business owners in the Purple Line corridor communities. Thanks to a $5 million Partnership for Raising Opportunities (PRO) Neighborhoods grant from JPMorgan Chase awarded to LEDC, Enterprise, and National Housing Trust, (NHT), over the last 3.5 years, LEDC focused on a comprehensive set of interventions:
Reaching out to stakeholders
Conducting in-person canvassing
Providing on-site technical assistance
Facilitating access to capital
Coordinating services with partner organizations
Nurturing community leadership development
Advocating for systemic and policy changes at the County, State, and Federal levels
Over the grant period, LEDC provided technical assistance to 275 small businesses, disbursed about $1.6 million in loans (including more than $906,000 from JPMorgan Chase), and advocated for the needs of small businesses, bolstering, and equipping local entrepreneurs with the tools and knowledge needed to navigate a rapidly evolving corridor. Two examples of our work in action are Stars Beauty Salon and Trippy Tacos:
Providing Technical Assistance to Stars Beauty Salon
1339 University Boulevard, Takoma Park, Maryland
LEDC, together with business advisors, loan officers, and external consultants, worked to coordinate real solutions to ensure businesses remain successfully in operation. Some of these solutions include starting to offer products online, rebranding, exploring new offers, consolidating businesses and inventories, and updating suppliers and alliances.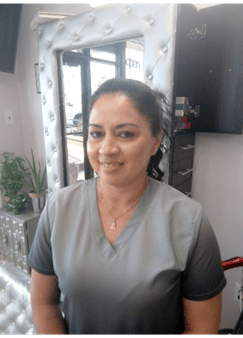 Purple Line business Stars Beauty Salon increased its revenue by over 30% after receiving technical assistance and capital from LEDC ($28,000 as a low-interest loan and $2,000 as a grant). Stars Beauty Salon specializes in providing aesthetic services for women, men, and children, ensuring they look their best. Lorena Ramirez worked for over 10 years at the salon, and in 2021 she became the owner and CEO of this business. Since 2022, Lorena has received technical assistance from LEDC to update the website and booking system and create digital content.  
Among the lessons learned from this process, we can say that it is necessary to visit and have face-to-face contact with business owners, to inform in different languages, and to plan activities that integrate the underlying community and encourage discovery and consumption within their community. Among the topics where support is most required are legal, finance, and marketing, so at LEDC, we offer 1:1 technical assistance at no cost, creating personalized solutions according to the needs of each business and relying on specialized external consultants.
Facilitating Access to Capital for Trippy Tacos
12134 Georgia Avenue, Silver Spring, MD 20902
Founder and Executive Chef Chris Robles perfected his technique for making tacos in South Central Los Angeles. His unique spin on al pastor combines family recipes with LA inspiration. After operating a popular food truck for three years, Chris, 26, had ambitious plans to anchor his business to a storefront. In July 2022, Trippy Tacos opened its first restaurant in Silver Spring after receiving technical assistance from LEDC to incorporate the business, plan and promote the ribbon cutting event, elaborate a HR handbook and conduct a trademark registration. 
"It's all come full circle. This is the first-ever restaurant location of Trippy Tacos, and we have plans to expand in the DMV," said Chris.
Despite the challenges, for many emerging businesses there are opportunities to doing business along the Purple Line because there is market availability, the possibility of negotiating rental prices, and the ability to visualize their growth at the same time as construction, so that by the time the work is finished, businesses like Trippy Tacos can be at a better level of positioning and growth.
A Collaborative Approach
The task of providing technical assistance and coaching to Purple Line businesses is not a responsibility solely shouldered by LEDC. The Purple Line Corridor Coalition takes a collaborative approach, and LEDC works with other CBOs on the PLCC Steering Committee and as chair of the Small Business Action Team and the Small Business Education, Policy, and Advocacy Subgroup.  
Achieving stability in the communities we serve requires the reinforcement of our efforts through systemic and policy changes. Advocacy is essential throughout this process; integrating the government, non-profits, the private sector, and the community is essential. Creating audiovisual pieces, spaces in the local press, and television to communicate not only the technical aspects of the construction but also all the resources available in the area that business owners can attend are of great help. 
To support Purple Line businesses, LEDC has collaborated closely with government bodies, including the Maryland Department of Transportation (MDOT), Maryland Transit Authority (MTA), and Purple Line Transit Partners (PLTP). When the construction timeline evolved, LEDC drafted a letter to MDOT, MTA, and PLTP, urging an update to the 2017 Business Impact Minimization Plan due to significant economic changes caused by construction delays and the pandemic. The requests included revising the construction timeline, involving the Purple Line Corridor Coalition and small business representatives in the update process, and creating a communications plan for full transparency. Shortly after, MDOT, MTA, and PLTP connected with the Coalition and started the update process. 
We are grateful to work in partnership across sectors, because we know we need community organizations, state and local governments, nonprofits, philanthropies, businesses, and private partners to most effectively support small businesses along the 16-mile corridor. 
This multi-part blog series highlights the impact of work by Enterprise Community Partners, the Latino Economic Development Center, and the National Housing Trust in communities near the Purple Line expansion. This work was generously supported by JPMorgan Chase through its PRO Neighborhoods initiative. Read our first, second, and third post.