At the Community Development division of Enterprise Community Partners, we're proud that more than 23,000 residents call our communities home.
We are the top nonprofit owner and developer of affordable homes in the mid-Atlantic, and we're number one for a reason: Residents are the heart of our work and the reason behind everything we do, and that's never been more important as we celebrate our 40th anniversary. Our mission is to create pathways to well-being and upward mobility, starting with an affordable home that's a place of power, pride and belonging.
We go beyond putting a roof over people's heads. From community building to comprehensive services, we enrich residents' experiences and help them build stronger futures. For decades, we have helped residents do better in school, learn new job skills, live healthier lives and create lasting relationships. We know that when residents thrive, all communities thrive. With our team of industry experts and field specialists, we've developed a signature resident services toolbox that helps level the playing field and propel our residents toward their life goals. Every day, we successfully identify and address resident needs and opportunities under four key pillars: community building and engagement; economic security and mobility; education; and health and wellness.
Image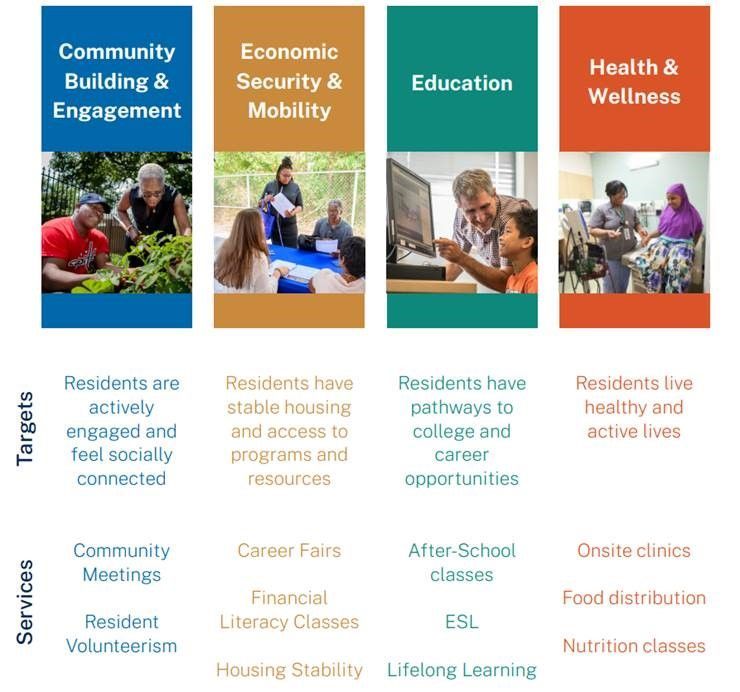 The Covid-19 pandemic has taught us that residents' experiences living in our communities matter more than ever. Through resident-led councils, satisfaction surveys, and one-on-one meetings, we heard them loud and clear: Resident voices matter. That's why today we're proud to launch Resident Voices: Celebrating Community, Resilience, and Empowerment. It's not only a platform for residents to share their stories, life lessons, and experience living at an Enterprise community; it's also an upgraded system in how we create a feedback loop – to deliver quality services and opportunity that elevate residents' experiences.
As we roll out this new initiative, you'll hear firsthand from residents who are thriving in their communities and rising up in life. Through podcasts, short films, panels, and community gatherings, Resident Voices shines a light on what it truly means to live in affordable homes and shatters prevailing myths and stereotypes of those who live in our communities.
I'm excited to share our first Resident Voices activation – a short film featuring The Golden Girls of Hollins House: Louise Watson, Sarah Sheldon, Jean Henry, three very good friends who have lived in this building for many years. From chair yoga to bingo, they do everything together – even providing emotional support to one another during challenging times.
Follow us as we share more resident voices and join us at Enterprise's 40th Anniversary Conference to meet these brilliant community members.