In 2001, the Enterprise Women's Network (EWN) was created to support community change in Baltimore. In those 20 years, EWN has mentored more than 125 girls, supported book fairs, raised more than $1 million, forged lasting friendships and inspired brighter futures. 
We talked with Sherry Phillips, EWN education committee chair, about the group's history and work.
Enterprise: How did the founders come together to create the Enterprise Women's Network? What sparked the creation of the organization?
Sherry Phillips: The Enterprise Women's Network was created to help women make direct connections to the work of Enterprise in Baltimore and create opportunities for them to be part of community change in our city.
The mission was to bring together a diverse group of women (age, race, profession, etc.) to really build a collective impact strategy that was inclusive of advocacy, fundraising, volunteerism and networking, allowing women to participate in the way that was best for them. 
They have provided countless hours of volunteer time through programs like mentoring, raised over a million dollars to support Enterprise programs in Baltimore, advocated for local, state and federal policy that promoted community change and networked with each other to build community in Baltimore. 
E: How do the mentors work with the students? How are they matched with the students, what type of activities do they do with the students, how long does the mentorship last?
SP: The mentors work with the students using three different formats:
One-on-one time together that includes playing games, reading, drawing, talking
Whole group sessions taking part in workshops and learning experiences together
Field trips to college campuses in the fall, cultural trips in the winter and green spaces in the springtime
Image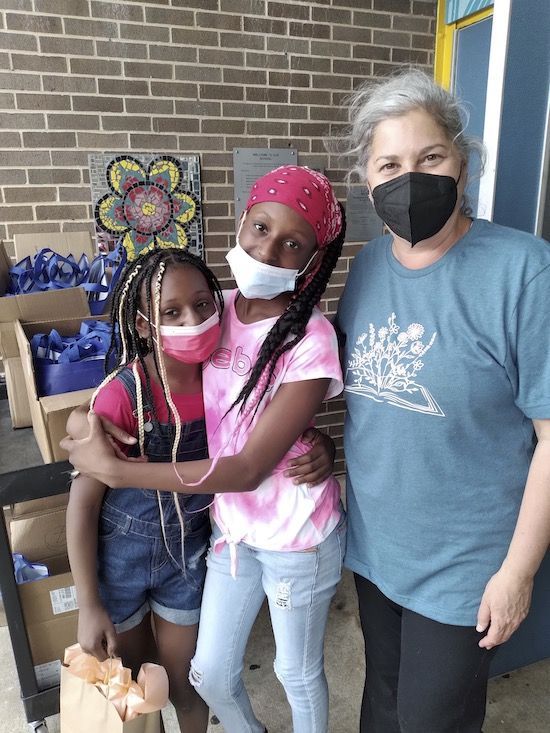 Our goal is to support the girls in their thinking about their future beyond their Sandtown Community by broadening their horizons. The students are picked by the school principal, teacher and community resource director as someone who could benefit from the exposure and extra opportunities.  
They are then randomly matched with a mentor who hopes to create a nice bond with the young lady. Sometimes this bond does not naturally happen so some shifting in partnership needs to take place. Our mentoring program is open to students in third through eighth grades. So ideally, the mentor/mentee pair would last that long. Unfortunately, though, we serve a very transient neighborhood so the six-year pairing does not happen that often. 
E: How many students have been served over 20 years?
SP: On average, we serve between 25 to 30 girls each year, depending on the mentor count, since we are a one-on-one program. There have been many girls who repeated two to even six years with us so I'm going to guess we've served more than 400 girls.
E: How has Covid-19 impacted the program?
SP: Covid-19 completely shut down our program in March 2020 with no chance to say goodbye to our young ladies or recognize our eighth-graders from that year. Since we weren't sure what the fall would look like in terms of in-person school, or more importantly allowing visitors into the school, our six-person education committee came together and created an online virtual program for the 2020 to 2021 school year.  
We provided Go Girl boxes for each mentee that included resources that we'd use for the entire year, including books, arts and crafts materials, snacks, affirmations and more.  We created a calendar like a normal year and met the same numbers of times – a total of 17 – through Zoom.  
We split our year into three phases of plant, grow and bloom, and based our programming on inspirational books that we could read excerpts from, discuss and take part in an activity together.  
We have always started sessions with affirmations, so we supplemented with Yoga poses to start each meeting. We even had virtual field trips to a local community garden and Africa. 
Although it wasn't an ideal situation, we were very proud of how we kept the connection with the school and the girls. Some mentees didn't log on once during the year, but a few logged on every time, so it was certainly worth it. 
Related story: Mentors look to help students for the first time since pandemic began
E: This is a tough question given 20 years of work, but what is the most memorable mentor-student story?
SP: This is a tough question, but I'll share two.  One of my own and one of another mentor/mentee pair.  
I was paired with a young lady, Cherish, who was super quiet and didn't share too much with me, ever. However, one day she simply came into a session, sat down beside me and slid a small little piece of felt that had been turned into a smiley face toward me to have.  It was a small gesture but with huge meaning.  I still have that smiley face today.  
Salli and Tyaira were paired together all six years and formed a terrific bond. Salli chose to leave our mentoring program and followed Tyaira to high school and now college as an extra support to her.
Tyaira started out as a shy young girl in third grade and is now an outspoken, outstanding junior at Stevenson University.  She even joined a virtual session last year and shared her story with the current mentees and gave them wonderful advice while answering thoughtful questions.  
E: What have the mentors learned from the students? How has this informed the work done by the EWN?
SP: I think the mentors learn about resilience from our girls and are reminded each time going into the Sandtown community of the inequity in our city and school system.
Our girls want the opportunity to create a good life for themselves, but the unending roadblocks make this very difficult.  
We hope that the experiences we give the girls, the seeds we plant, the love we show them by showing up will be tools they can use to create a good story for themselves. If I had to guess, I would think this was the main idea behind the EWN work when it was formed.
E: How can people contribute either through time or treasure?
SP: There are many ways to help outside of actually mentoring in the program. We continually collect items for the school – personal care products, school supplies, school uniforms, winter hats, gloves, scarves and coats, canned goods and gift cards.
So, one can oversee a collection drive in their neighborhood, their book club, their family or at work. 
One can offer to buy lunch for the school staff once a month during the school year.  One can participate in the Career Day at school or provide an outside workshop or assembly for the school with any contacts they might have in the City.  One can guest read in a classroom.  
The Scholastic Book Fair is brought to the school each spring so one can donate their time to volunteer at the fair by helping students shop, working at the cash register or reading to the kids, donating money so that each student and teacher at the school has money to come to the book fair to purchase books or providing breakfast or lunch for the volunteers during the three-day fair.
Donate today. Your gift, no matter the size, makes a real difference in a young woman's life.
Become a mentor. Apply here. Women in the Baltimore area, join us in making a real difference in a young woman's life.