"Our strength is people power, and this new futuristic approach promises to turn old models for outreach and engagement on their heads." – Mustafa Abdul-Salaam, Facilitator, Ward 8 Community Economic Development
In late February, a community-led planning process in Washington D.C.'s Ward 8 reached a milestone — cataloging community consensus on what is possible in this vital and evolving segment of the nation's capital. 
 
A Dream Deserved: Realizing Our Collective Emergence is the culmination of nearly three years of intense community engagement and thoughtful dialogue in the District of Columbia's Ward 8. It is also a data-informed and analytical consideration of the needs and priorities identified by residents, small businesses, nonprofit organizations, and other community stakeholders. 
 
The report also includes an online platform model for how to build and expand community data, connections, and access to services through a digital collective that would be available to all community members. 
Rooted in Community
Image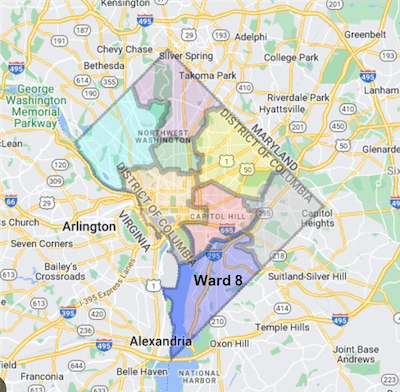 According to DC Health Matters' most recent demographic data, Ward 8 represents roughly 10% of the District's population and total households. It is a predominantly African-American community, with about 23% of the population 20 years old or younger. Ward 8 residents face disproportionate rates of poverty and unemployment compared to the District as a whole.
Years in the making, Ward 8 Community Economic Development – also known as W8CED – was convened to provide a comprehensive accounting of resident vision to explain what is needed for improved education, employment, public safety, business, housing, and other priorities.
The coalition is organized around a fundamental premise: A critical need exists to create a bottom-up ownership in the creation of a community economic development plan. This strategy is the vehicle to convene a consortium of businesses, organizations, agencies and residents who support development for the benefit of residents' financial future in a way that empowers their ability to create sustainable, long-term wealth.
Its vision is grounded in three fundamental principles — being child-centered, family-focused, and community-based — to benefit Ward 8 residents and communities for years to come. 
Multipronged Approach 
Enterprise proudly joined the W8CED effort in 2020. From across our multiple departments, including our Mid-Atlantic team, our mission-based consulting group Advisors, and our Community Development staff, we have provided additional capacity, technical assistance, housing and small business policy expertise, and strategic communications. Enterprise thanks the Bainum Family Foundation for its generous financial support of our work, as well as their team's thoughtful collaborative engagement throughout the process.
 
Image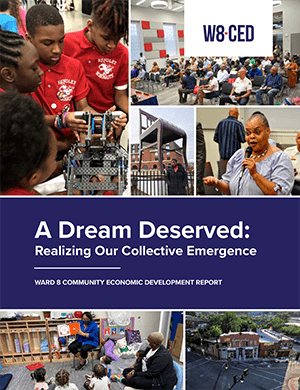 To tackle all of the community-identified needs, committees focused on 11 core topic areas, doing the on-the-ground work of identifying needs, quantifying the demand, and developing approaches to address those priorities. In addition, systemic data collection and outreach efforts reached deeply into Ward 8 neighborhoods to identify and respond to areas of greatest urgency. A diverse steering committee has overseen the effort to date, and W8CED is in the process of becoming a nonprofit organization to convene the work moving forward. 
The group has already identified work to pursue. Feedback received during resident engagement activities included a desire to benefit from a comprehensive communication network — one that connects the residents to the activities and critical information in the community. Residents wanted this network to prevent the duplication and fragmentation across service delivery and communication that exists now.
The W8CED team plans to engage and connect residents, employers and local businesses, schools, health and housing providers, nonprofits, and locally based institutions through a Ward 8 Digital Collective. The collective is a community-driven approach for economic development and health equity.
The collective will provide avenues for all residents to organize, learn, and convene through the membership association, advocate for digital and internet justice, provide internet access and digital literacy training for W8CED members, and work to ensure the association is designed to be inclusive for all residents. 
Access the report and find out more about W8CED's community vision, approach, and partners by visiting w8ced.org.