Our Gulf Coast staff, in partnership with our Rural and Native American Initiative team, led a road trip through Louisiana and Mississippi with Housing Affordability Breakthrough Challenge winners cdcb | come dream. come build and buildingcommunityWORKSHOP.
Administered by Enterprise and made possible by the generous support of Wells Fargo, the challenge seeks to close the affordable housing gap by elevating and transforming housing affordability innovations into real solutions. cdcb and bcWorkshop's breakthrough innovation is MiCASiTA, an affordable modular homeownership construction model designed to grow in size.
See related article: At the Halfway Mark of the Housing Affordability Breakthrough Challenge
Image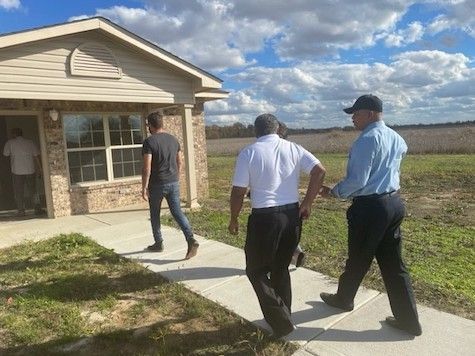 Earlier this year, Enterprise recruited a small cohort of community development organizations working in rural areas and small towns in Louisiana and Mississippi to provide capacity training and to introduce them to the MiCASiTA model. The road trip provided an opportunity for the rural cohort members to meet the MiCASiTA team in person for in-depth discussions and to show off their work in their communities.
The tour began in Lake Charles, Louisiana, with cohort member Project Build a Future and continued to Amite, Louisiana, with cohort members Tangi Community Development and Bogalusa Rebirth. Then, we began our Mississippi tour traveling to Greenwood with regional partners Delta Design Build and Hope Enterprise Corporation; and culminated in Tunica, Mississippi, with cohort members Tunica Co. Community Development Coalition, BDT Housing Services and Helping One Another.
The cohort expressed enthusiasm about the MiCASiTA concept, and Enterprise will continue working with them to explore opportunities for bringing the innovative housing model to the Gulf Coast.