Enterprise Community Partners and the Bay Area Housing Finance Authority partnered to issue a new research brief on the Bay Area Affordable Housing Pipeline. The report revealed that there are 395 affordable housing developments in various stages of predevelopment across the nine-county Bay Area that would create almost 33,000 affordable homes.
The Pipeline – a first-of-its-kind database of the region's forthcoming affordable housing – illustrates the enormous progress that the affordable housing sector has made. It also highlights the significant resources needed from the state, regional, and local levels to move these from predevelopment to construction to home.
One solution Enterprise and BAHFA have identified to close the $7.6 billion gap and accelerate affordable housing production in the Bay Area is a $10 billion to $20 billion regional affordable housing bond proposed to be placed on the November 2024 ballot. BAHFA was authorized to place such a bond measure on the ballot through its enabling legislation in 2019.
To learn more about this research and a potential 2024 regional housing measure, we spoke with Justine Marcus (JM), Enterprise senior state and local policy director in Northern California, and Kate Hartley (KH), BAHFA's inaugural director.
Enterprise: What motivated you to embark on the Pipeline research project?
JM: Our team completed the first iteration of the Pipeline in 2019 because we saw a gap in the information available to the affordable housing field and for regional decision-makers. There was no central place to find information on the affordable housing being planned in communities across the nine counties, and there was no data on the amount of funding needed to unlock these planned affordable homes. We stepped up with the Pipeline research to fill this gap.
The 2019 Pipeline was the first time we had a comprehensive regional picture of the Bay Area's affordable housing predevelopment pipeline. In 2022 we updated the Pipeline with an expanded and refined methodology, in partnership with and with funding from BAHFA as one of their five pilot programs. Continuing the Pipeline research and cataloging the funding need is essential as we approach the 2024 election when we hope to pursue a regional affordable housing bond. 
KH: As BAHFA embarks on fulfilling its mandate to provide resources essential to the Bay Area's affordable housing efforts, the Pipeline offers excellent foundational data that will guide BAHFA's strategic planning – we now know what our communities have in the work, we have great project cost information, and we can therefore size the "gap" funding need. 
This is where BAHFA's new regional financing role can be transformational. With a successful regional revenue measure, all cities and counties will have an unprecedented level of affordable housing funds that can move their pipelines forward and also seed new projects. The Pipeline offers a roadmap for effective affordable development in the immediate term and critical data for longer-term financial planning. 
E: Tell us about how you collected and analyzed the data for the Pipeline.
JM: To collect data from across the region, we utilized state-provided public data and worked closely with local housing agencies, affordable housing developers, and other financial partners who shared their data with us. We could not do this research without the collaboration and data these partners shared with us! 
To build the database, we merged and cleaned the data we received. Then, we used this information to analyze the pipeline of developments – such as where they're located, who they serve, etc., and then calculate how much funding is still needed for each project to move forward. More details on our methodology can be found in our research brief. 
E: What does this research tell us about affordable housing in the Bay Area?
JM: Our findings reveal a significant opportunity to bring new public funds forward and allow nearly 33,000 affordable homes – often years in the making – to begin construction. Our research found that there are 395 affordable housing projects in predevelopment across the nine-county Bay Area that would create an estimated 32,944 affordable homes. These developments need $7.6 billion in public financing in order to move forward and bring new affordable homes to the region.
The majority of the affordable homes in predevelopment would be new construction, and there are affordable housing developments planned in all nine counties across the region. This comes at a time when communities across the Bay Area have been tasked with producing 180,334 new affordable homes over the next eight years as part of the Regional Housing Needs Allocation (RHNA) and housing element process. 
This state-mandated goal reflects the severity of the need as residents, particularly people with low incomes and people of color, face rising housing costs and housing instability. Our research found that Alameda County, Santa Clara County, and the City and County of San Francisco have the greatest number of homes in predevelopment. They also have the largest affordable housing goals due to their population, local needs, and proximity to jobs and other resources. 
KH: We've done a good job for a long time in California making housing development difficult and expensive. Concurrently, we've seen stagnated or diminished financial resources devoted to affordable housing at the federal and state levels over multiple decades. The Bay Area's 2023-2031 Regional Housing Needs Allocation offers stark consequences of those decisions – we simply do not have enough affordable housing. 
Nonetheless, the Pipeline tells us that local communities around the Bay are pushing forward as best they can to build the affordable housing developments their constituents need: almost 33,000 new homes are in predevelopment! Working together on new revenue sources – such as a regional housing bond – and development strategies that seek to unwind bureaucratic obstacles can reverse the trends. The Bay Area's diversity, creative economy, and role as a welcoming place to all depends on providing the affordable homes our full workforce needs.
Affordable Housing in Predevelopment 
Image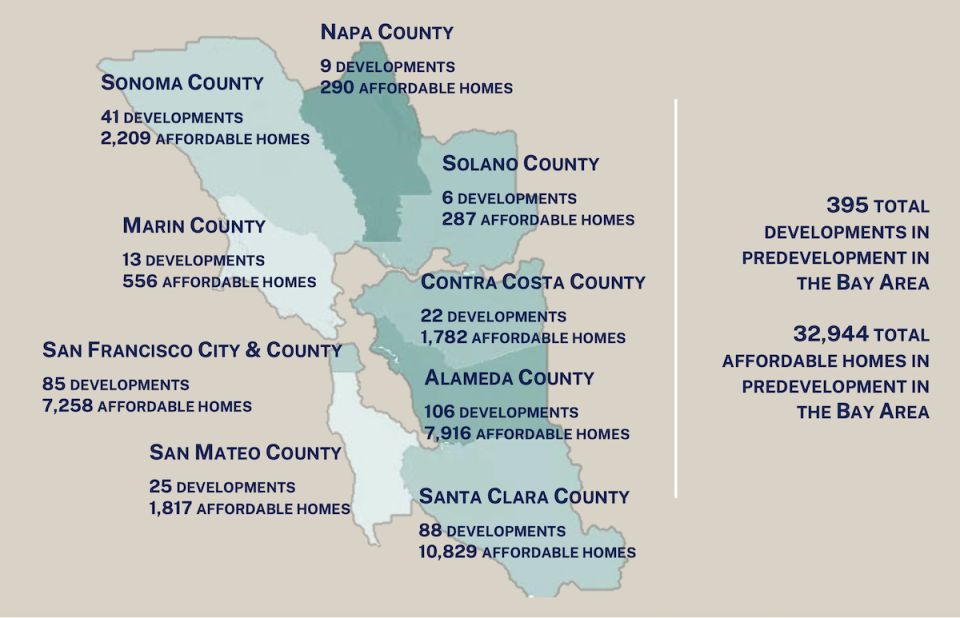 E: Where do we go from here?
JM: The Pipeline provides both guidance and urgency to our efforts. We have affordable homes waiting to begin construction because they lack funding, and, at the same time, we have neighbors suffering on the streets due to a lack of affordable housing. 
We need to do something different. We have an opportunity with the 2024 election to raise $10 billion to $20 billion for affordable housing, which would be a transformation for unlocking the affordable homes in the Pipeline, and beyond. 
We will also make the findings from this research publicly available and use it to inform our efforts to increase resources, reduce barriers, and foster innovation in affordable housing construction and finance at the state and federal level as well – everyone has a role to play in addressing this crisis. Furthermore, we will be working with BAHFA to continue to maintain the Pipeline over time to track need and progress as new affordable housing projects begin predevelopment and complete construction.
KH: BAHFA will continue to work with Enterprise to ensure the Pipeline is updated, accurate, and available to all stakeholders. And BAHFA will continue to rely on Pipeline data to guide a variety of urgent efforts: 
The Pipeline lays critical groundwork for BAHFA's strategic planning and provision of information to voters and policymakers as they consider a 2024 regional bond measure. 
Pipeline data should advance discussions regarding how the state's funding allocations can be made more efficient, predictable, and equitable so that these resources flow to projects in predevelopment faster.
The Pipeline informs the pressing need for more solutions to homelessness - merging communities' point-in-time counts of unhoused people with supportive housing in predevelopment will help us quantify the remaining shortage of interim and permanent housing.
The Pipeline provides a comprehensive view of the Bay Area's housing needs, and only through comprehensive, collective action can we deliver what is possible: housing for all.