In southeastern Louisiana, rural communities grapple with the great need for affordable homes as do urban and suburban areas across the country. In Tangipahoa, St. Helena, and Livingston parishes, a local nonprofit is pursuing all housing opportunities to ensure everyone has a quality, affordable place to call home.
Image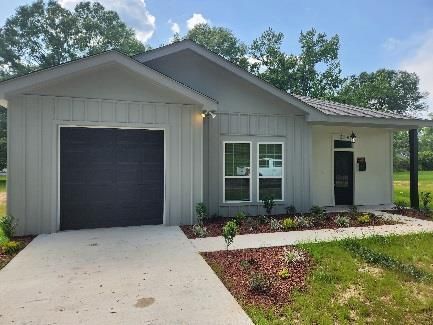 Tangi Community Development Corporation is a minority-led community housing development organization, which offers affordable rental options for families to help them transition from renting to owning their homes.
Since their establishment in 2016, Tangi has focused on both housing preservation and new construction. They rehab existing structures for both affordable rentals and homeownership, and they also work with their local parish governments to develop vacant lots to diversify and expand their affordable housing portfolio to serve more families.
Second Street Homes
Tangi recently completed construction on four single-family homes and now opening applications for new homebuyers. Their Second Street development marks the organization's first new housing construction in Amite City.
Securing a pipeline of eligible buyers is a key next step so that families can move into the new homes. In partnership with the Louisiana Housing Corporation (LHC), eligible households under 80% of area median income will also receive critical down payment assistance to help them become homeowners.
Leveraging Funding and Technical Assistance
With additional funding and technical assistance from our Gulf Coast and rural teams, Tangi was able to provide down payment assistance and financing options for households qualifying for both their Second Street and Duncan developments.
Tangi utilized a recoverable grant to support predevelopment for their homeownership projects. With the support of these funding opportunities, Tangi CDC has been able to create new homeowners, develop new homes that are at completion, complete rental developments and successfully win a competitive HOME Program funding application.
Funding has also allowed them to build the capacity of their staff. Their additional capacity provided them the flexibility and the ability to process tenants on a waiting list using new software purchased with Section 4 funding. This allowed them to virtually screen tenants and place them in affordable rental units and maintain their waiting list.
Helping Families Achieve Sustainable Homeownership
Now that Tangi has several homeownership developments behind them, their next goal is to find resources to help more families achieve sustainable homeownership. 
"We are seeing more applications from African Americans who are applying for homeownership in the Tangipahoa Parish. Given our market, one thing that we do is make sure that we match what was provided to the homebuyer through our down payment assistance to cover the overpriced market to make these homes affordable for those who cannot afford them otherwise," says Jessica Chrystal, policy and compliance manager.
Tangi is an outstanding example of why financial resources and technical assistance —like Equitable Path Forward and Section 4 —for smaller nonprofits are important. This support empowers our community partners as they work toward their goals of creating more affordable housing options and opportunities for the families that they serve.