Our Northern California and Southern California teams have participated in conferences across the state, moderating and contributing to panels covering the challenges in California's affordable housing sector.
Enterprise Showcases Work at NPH Affordable Housing Conference 
Enterprise was thrilled to have attended this year's 2023 Non-Profit Housing Association of Northern California (NPH) Affordable Housing Conference on October 6 and to have joined affordable housing changemakers to discuss powerful affordable housing practices and policy solutions.  
Our Senior Director Geeta Rao moderated a timely session, Coalition Building for a Transformative Electoral Win in 2024, which provided key insights and strategy on the powerful two-step 2024 campaign to pursue a statewide constitutional amendment to lower the voter threshold for local affordable housing bond measures and raise $10-20 billion through a nine-county Bay Area affordable housing bond.
Geeta was joined by Matt Huerta, principal at Matt Huerta Consulting, Nevada Merriman, director of policy at MidPen Housing, Mayor Jesse Arreguin, City of Berkeley and president of the Association of Bay Area Government, and Marc Jahr, senior advisor at Forsyth Street Advisors.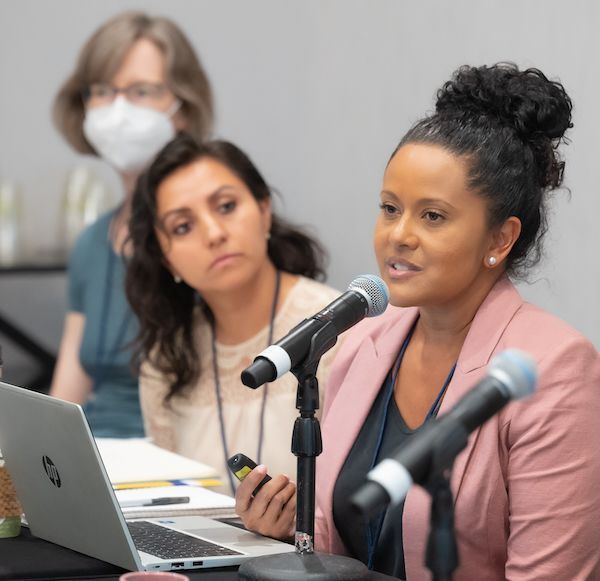 Our Southern California Senior Director Ruby Harris was a panelist for the session, New Tools for Community Preservation, which provided information on new programs supporting preservation and community ownership by providing innovative capital financing and capacity-building dollars.
The panel was moderated by Cindy Wu, executive director at LISC Bay Area, and on the panel, Ruby was joined by Stephanie Reyes, housing and community development specialist II at California Department of Housing and Community Development, Jazmin Segura, director at Common Counsel Foundation, and Noni Session, director at East Bay Permanent Real Estate Cooperative.  
Enterprise Elevates Preservation at San Diego Conference
Enterprise is proud to have presented at the San Diego Housing Federation's (SDHF) 2023 Affordable Housing & Community Development Conference on October 3. Our very own Amiel Leaño Atanacio, senior program officer, organized a panel on the preservation landscape in San Diego and across California in collaboration with Ruby Harris, our Southern California senior director of Capital Solutions and Partnerships.
Enterprise discussed the Preservation Next program, preparation for the implementation of the Foreclosure Intervention Housing and Preservation Program (FIHPP), and the ongoing effort to establish a statewide preservation program through SB 225: Community Anti-Displacement and Preservation Program (CAPP).
The panel was moderated by Kevin Leichner, senior vice president of Housing and Real Estate Development at Community Housing Works, and on the panel, Ruby was joined by Wendy DeWitt, vice president of Real Estate Program and Special Interests, Rehabilitation at the San Diego Housing Commission, and Peter Armstrong, vice president of Real Estate Development at Wakeland Housing and Development Corporation.