This article is part of a blog series, Policy Actions for Racial Equity (PARE, which explores the many ways housing policies contribute to racial disparities in our country. 
America's recent eviction crisis was not caused by Covid-19. The Covid-19 pandemic has exacerbated systemic housing stability challenges that existed before the pandemic.
Affordable rentals are disappearing rapidly due to market pressures or physical deterioration, and the number of cost-burdened renters continues to rise.
Government help has not kept pace with the need – only one in five eligible families have access to federal financial support for housing.
BIPOC households have higher rates of housing cost burden. Moreover, for Black, Hispanic and Asian households, the risk of eviction is significantly higher compared with white households.
This is not a coincidence. Current and historic deliberate discrimination and racism in the housing industry and job sectors are two drivers of this injustice.
While emergency housing and legal assistance and interventions by landlords and within the court system are necessary to stop evictions nationwide, these programs and policies must address the root causes of housing instability.
There is a critical need for more affordable housing and a more comprehensive safety net system to ensure people can remain in their homes to break intergenerational cycles of poverty and to enable accelerated preservation of the nation's affordable housing stock. 
Strong resident protections, equitable pay and other "upstream" affordable housing solutions are key to avoiding evictions long after the pandemic ends and to addressing enduring systematic racism in housing. 
This summer, Enterprise launched a four-part eviction prevention webinar series to address the housing stability of renter households as the nation works toward an equitable recovery. 
Supported by JPMorgan Chase & Company, the series provided critical information, tools and best practices to a wide range of partners – including property owners, resident advocates and policymakers.
New Resource: A Housing Stability Roadmap
As part of the eviction prevention series, Enterprise introduced a new resource, A Roadmap to Prevent Eviction and Promote Housing Stability. The publication catalogues a broad range of tools and strategies. It also offers guidance on when and how to use them, depending on the various stages of the eviction cycle.
The closing event in the webinar series, Moving Upstream: Housing Stability to Prevent Eviction and Address Racial Disparities, featured experts with a diversity of perspectives on how to move away from emergency measures to keep residents in their homes, with an emphasis on interventions that can also help narrow racial disparities in evictions and other housing outcomes.
Panelists included:
Mayor Latoya Cantrell, City of New Orleans
Flora Arabo, National Senior Director for State and Local Policy, Enterprise Community Partners
Mary Cunningham, Vice President, Metropolitan Housing and Communities Center, Urban Institute
Mercedeh Mortazavi, Vice President, Global Philanthropy, JPMorgan Chase Foundation 
Mirtha Santana, Chief Program Officer, RiseBoro Community Partnership
Philip Tegeler, Executive Director, Poverty & Race Research Action Council 
Michelle Whetten, Vice President and Gulf Coast Director, Enterprise Community Partners
Ray Winbush, Research Professor and Director of the Institute for Urban Research, Morgan State University
Mayor Cantrell opened the discussion by stressing that cities and states must equitably and quickly distribute emergency housing resources to households struggling because of the pandemic – and they must do more to help families before they experience a housing security crisis. 
Image

"We are meeting people where they are with a 10-month universal basic income pilot targeting opportunity youth between 16 and 24 who are not in school or connected to the workforce," said Mayor Cantrell.
"We know that Americans are experiencing economic fragility and were living paycheck to paycheck before the pandemic. We must continually take an 'all tools in the toolbox' approach, because wherever people find themselves, is where we want to meet them," she said.
Panelists discussed the root causes of housing instability in America, policies that could protect residents and strategies to change affordable housing systems and practices that would result in greater housing choice and opportunity.
Four Key Takeaways
1. The face of people most at risk of eviction are people of color, especially women, who are more likely to land in a cycle of eviction and homelessness.
"Evictions of Black people in this country go back to 1865," said Morgan State University's Prof. Ray Winbush, who described how then-President Andrew Johnson evicted formerly enslaved Black people from 400,000 acres of land that had been given to them and returned it to former slaveholders.
Eviction prevention services, counseling and high-quality research-based programs such as RiseBoro Community Partnership's Homebase Homeless Prevention have prevented thousands of evictions and households from entering shelters in communities across the nation.
But "these programs focus on crisis intervention, and are set up so that when a client shows up at our door, they are in desperate need," Santana said.
RiseBoro and other organizations are starting to work "upstream," directly with public schools and with families before an eviction crisis occurs, including creating cash assistance programs for mothers.
Image
2. The pandemic brought to light our preexisting housing crisis. We were unprepared and underfunded, but have solutions and a system to build upon to avoid this situation in the future.
Urban Institute's Mary Cunningham reminded the audience that the nation lacked the underlying infrastructure and resources to deal with the Covid housing crisis. Moving forward, we must build a stronger upstream safety net to avoid future crises, she said.
"We were woefully unprepared and underfunded, but in fact we do have solutions. We already had a system for helping low-income renters, that's the federal Housing Choice Voucher program. But because of underfunding, only one in five households who qualified for assistance received it," said Cunningham.
Cunningham stressed that the Housing Choice Voucher program is an evidence-based program that works. Vouchers reduce evictions and homelessness and help people stay in their home. And the research also shows that vouchers have benefits that go well beyond housing, including reducing poverty and improving well-being.
"If housing assistance were available to everyone who qualified before the pandemic, managing that sudden loss of income or that big medical expense would have been easier to navigate," Cunningham said.
"Households could have notified public housing authorities, and they would have adjusted the rent and then the government would have paid the difference. Unfortunately, as we all know, that's not what happened."
Speakers noted that the predicted tsunami of evictions has not yet happened because the eviction moratoria worked; stimulus cash assistance and supplemental unemployment payments worked; and emergency rental assistance is helping people avoid evictions.
But the nation remains in the middle of a housing crisis and must double down on proven long-term solutions.
3. Fair housing tools and resident protection policies can prevent evictions.
Housing choice vouchers and other affordable housing programs are more likely to benefit households when paired with strong resident protections, such as Source of Income Anti-Discrimination Laws, according to Phil Tegeler of the Poverty & Race Research Action Council.
Fair Housing tools can help prevent eviction in the first place, Tegeler said.
"Currently, 16 states and almost 100 local jurisdictions have source of income discrimination laws, preventing discrimination on the basis of receipt, for example, of government housing funds, including emergency rental assistance funds," Tegeler said.
"Several states have already put out explicit guidance indicating that refusal to take emergency rental assistance funds constitutes source of income discrimination under the state law," he explained.
"Source of income discrimination laws can potentially be used as an affirmative defense in an eviction action or proactively as a claim to a local human rights office to prevent an eviction in advance."
4. Providing cash payments to renters instead of support through a variety of programs allows households to manage their own budgets, have flexibility in choosing their homes, and gain more opportunity to build wealth and move to ownership.
Cash assistance payments allow residents more self-determination. They also help residents avoid source of income discrimination and to save for goals such as buying a home.
"Households who receive cash payments do responsible things with them, and we have some empirical evidence of that in Compton and Stockton, California, where money was literally given to people and we found out that they didn't waste it," said Prof. Winbush, noting that some people used the payments to pay bills and get out of debt. "So we know cash payments work."
Image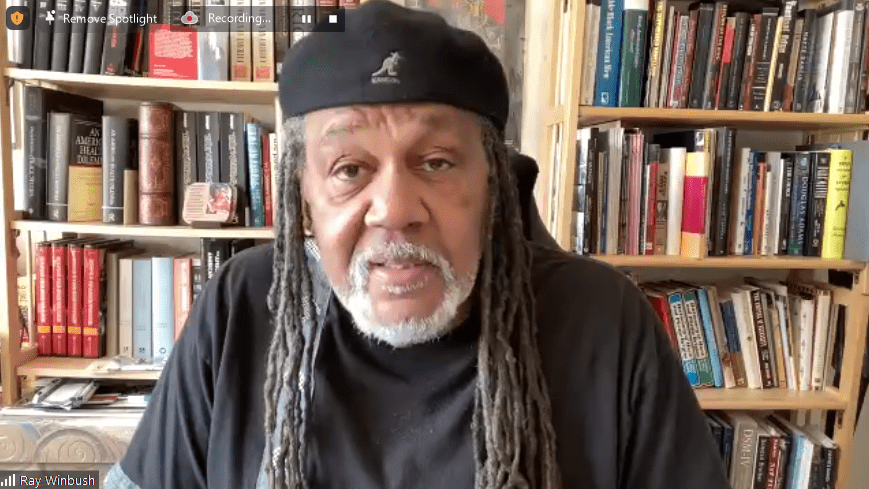 Prof. Winbush pointed out America's tendency to minimize the issue of racism when it comes to talking about inequity.
 "I am all for cash payments as a form of reparations to people who have been evicted or are getting ready to be evicted," he said.
The Time for New Eviction Prevention Strategies is Now
If anything, COVID responses have shown us there are expanded and new ways to approach stability and poverty alleviation – and that we must pursue new strategies that haven't been tried before.
Enterprise urges all who believe in creating a just society to read, discuss and share the PARE blog series as we learn and act to address the impacts of housing policies on racial equity in America.
We also invite you to join us in this conversation by suggesting additional topics and sharing resources on to help us advocate for greater racial equity.
If you'd like to offer feedback on our body of work, please reach out to the Public Policy team. Visit Enterprise's  blog  and use the subscribe link to receive daily and bi-weekly newsletters for more information on our federal, state and local policy advocacy and racial equity work.  
More About the Eviction Prevention Webinar Series
Our first panel in July, Eviction Prevention as a Preservation Strategy, examined the connection between housing stability and eviction prevention as strategies for the long-term preservation of the nation's affordable housing stock.
How to Harness the Legal System to Prevent Evictions offered strategies to prevent evictions through, and in partnership, with the judicial system.
The third event in the series, Landlords as Stewards of Housing Stability provided a landlord's perspective on housing stability and  strategies landlords can utilize to help residents stay in place.
Additional Resources