Preserving Permanent Supportive Housing in Los Angeles: What Will It Take?
In 2016, Enterprise launched the Los Angeles Permanent Supportive Housing (PSH) Preservation Initiative to provide leadership and mobilize the PSH development community around the consensus on capacity building and public policy solutions. This report documents what was learned from this effort. It illuminates the importance of PSH preservation as a critical step in the region's multilayered homelessness response, the uniqueness of the aging Los Angeles PSH portfolio and what is at stake if we do not respond in a more strategic way.
The document concludes with specific public policy recommendations, framed around six primary objectives:
Set specific targets and priorities for preservation efforts.
Protect expiring affordability covenants.
Mitigate operating cost escalations.
Establish dedicated or prioritized capital resources.
Ensure rent subsidies are flexible, sustainable and attached to all unsubsidized units.
Align funder policies.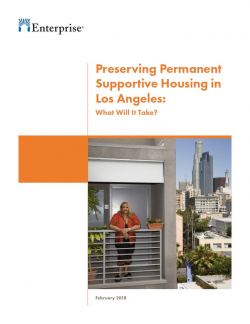 Date
February 12, 2018
Authors
Impact Areas
Preservation
Equitable Path Forward
Fair Housing