Overcoming Barriers to Bringing ADU Development to Scale
Interest in ADU development has been gaining steady traction in the housing industry as a housing production solution with potential to increase density, housing options and affordability, especially in predominantly single-family neighborhoods. However, there are persisting regulatory and financial barriers to bringing ADU development to scale. Writing from a policy-driven perspective, we aim to facilitate a broad conversation among industry stakeholders on how these challenges can be addressed in order to bring ADU development to a scale that would help boost affordability and diversity in housing options, especially in lower-density areas.
The newest paper in our Affordable Housing Design, Policy and Production research series, Overcoming Barriers to Bringing Accessory Dwelling Unit (ADU) Development to Scale, identifies strategies to address regulatory and financial challenges to bringing ADU development to scale. This includes easing and/or eliminating municipal regulations and requirements that tend to create regulatory barriers to ADU development and creating lending products tailored for ADU development.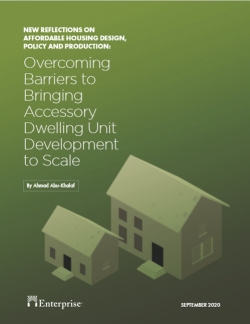 Date
September 16, 2020
Authors