At Enterprise, dismantling the enduring legacy of systemic racism in housing – in policy and practice – is central to the work we do.
We recognize the importance of Black Indigenous and people of color (BIPOC)-led affordable housing organizations to our most vulnerable communities. Yet, for decades, the affordable housing, community development, and commercial real estate sectors have been largely controlled by white leadership, even as they create affordable homes primarily in neighborhoods of color.
Affordable housing organizations with BIPOC leadership, meanwhile, often face barriers that impede their growth and sustainability. This inequity resulting from decades of discrimination and disinvestment calls for a solution to support BIPOC-led affordable housing organizations. This is especially critical given the tighter margins to develop and operate housing as a result of Covid-19.
Affordable housing organizations with BIPOC leadership continue to encounter barriers to accessing loans, grants, and technical support, impeding their business growth.
To break these inequitable practices and level the playing field, Enterprise has launched Equitable Path Forward, a five-year, $3.5 billion nationwide initiative to help dismantle the deeply-rooted legacy of racism in housing – from the types of homes that are built, where they're built, who builds them, who has access to them, and the wealth that is generated from them.
Enterprise will influence the affordable housing industry by investing in capital, grants, and program support over the next five years to advance strategies that will: 1) fill the capital gap created by decades of systemic racism by investing in BIPOC-led affordable housing organizations, 2) strengthen BIPOC-led businesses through consulting services, and 3) support BIPOC leaders and increase the talent pool to create career pathways for future BIPOC leaders in the real estate industry.
As part of this broader national effort, our New York office has acted on several fronts to further these goals. 
This summer, we launched our Equitable Path Forward: New York Grants (EPF NY Grants) and Equitable Path Forward: Advisory Services for Affordable Housing Organizations (EPF AS).  We have also begun working with   BIPOC led organizations on flexible financing opportunities to further their work.
Through EPF NY grants, we awarded up to $450,000 to 12 grantees to support for-profit organizations in the affordable housing industry to accelerate their housing development pipelines, bridge operational gaps, and fortify their property management infrastructure.
To complement this work, through EPF AS, Enterprise will support eight BIPOC-led organizations to accelerate their housing development and strengthen their operations. In addition, we will coordinate a Western New York peer-to-peer network to assess how Enterprise can better support BIPOC-led organizations located in the region.
We're excited to work closely with each of these organizations to further their goals. We will offer trainings, peer-to peer conversations and networking sessions to these organizations as part of our advisory services support.
The awardees are:
Image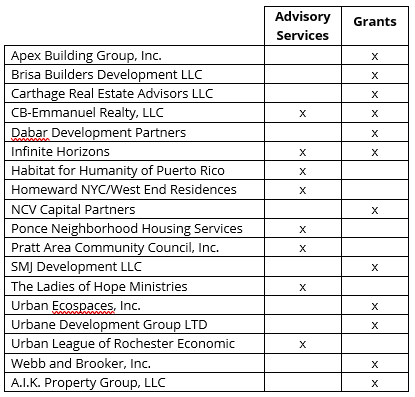 We are currently soliciting consultants for the Equitable Path Forward initiative's Advisory Services who can assist the affordable housing organizations selected to participate in the local and national Equitable Path Forward initiative with individualized consulting. Applications are due by October 1, 2021.
Enterprise New York would like to thank Federal Home Loan Bank of New York and KeyBank for supporting our Equitable Path Forward Advisory Services New York activities.