2020 was a difficult and challenging year. The global pandemic and protests in response to increased awareness of often violent racial injustice have laid bare the stark inequities that exist in our communities. This has also made clear the role the built environment plays in both perpetuating and alleviating these inequities. It is with this backdrop that we hold in even greater appreciation the work of Enterprise Rose Fellows across the country. We have been both inspired and educated by the committed work of all our fellows, past and present, and especially the six Rose Fellows, emerging leaders in the field of design and community development, who completed their fellowships this year.
In December, our Rose Fellowship family gathered (virtually, of course) to celebrate the accomplishments of these six graduating Rose Fellows: Seema Kairam, Dawn Hicks, Nick Forest, Deborah Link Perez Centeno, Chau Pham, and Lindsey Briceno. Over the course of two videoconferences, each graduating fellow shared their individual – yet similar – experiences of the fellowship. They dug into the successes and challenges of integrating their passions and skills in architecture and community design into communities across vastly different corners of our country.
Over the last two to three years, and in partnership with their host organizations, these six Rose Fellows have investigated, and gotten to work on, how to use creativity, design and community engagement to make their communities places of pride, power and belonging – and to ensure that housing was leveraged to the greatest need of the community.
We hope you join us in learning from what they, along with their hosts and communities, created and discovered through their fellowships. The Rose Fellowship family at Enterprise is moved by their contributions toward more equitable communities and systems where people experience self-determination and agency in their won communities.  We see and take heart in the long arc of their continued contribution to a more just world.
Watch Their Presentations:
Image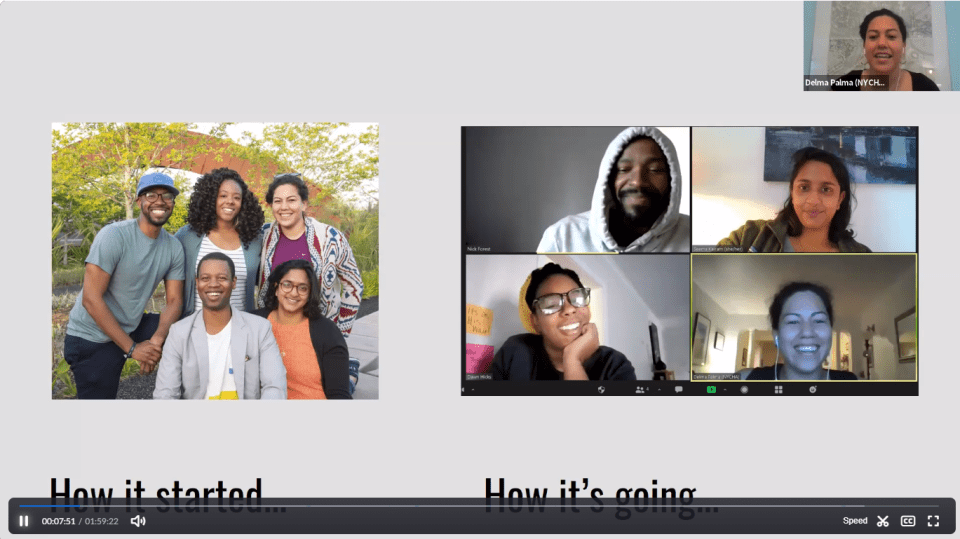 Image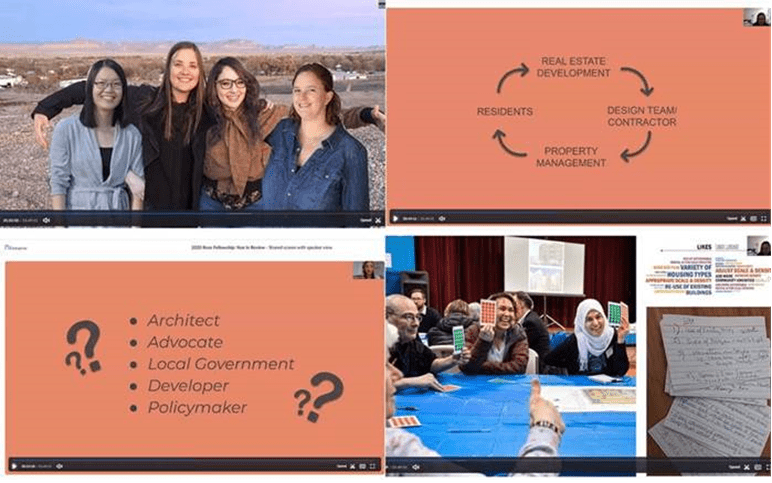 What They Said that Made Us Think
Seema Kairam, Trust for Public Land, St. Paul, MN
About trusting community leaders and addressing the gentrification risk during park development processes, Seema said: 
"We need to begin with an understanding that the barrier to equitable community development is not a lack of knowledge or expertise or even really a lack of money. It's a lack of political will."
"In order to have an equitable development, the needs of those most marginalized in the community must rise above the needs of traditional real estate interest and developer interests."
About her work developing an Equity Action Plan at the Trust for Public Land, she shared:
"More important than adopting an equity plan wholesale, is for leadership to engage and grapple with hard questions and then communicate in a clear and transparent way their commitment to managing towards and providing resources for staff to authentically engage issues around diversity, equity, inclusion and justice." 
Dawn Hicks, Venice Community Housing Corporation, Venice, CA
As an African American female architect – in an industry where Black women represent only 0.2 percent of the total population of approximately 91,000 licensed architects – Dawn said this about her professional and personal growth that she developed through the Fellowship
"The Rose Fellowship pushed me out of some comfort zones that I didn't even know I was still holding on to. I feel like a different person and being able to expand on that thesis project that I created 10-years ago has been amazing. I was asked to speak on panels, put together sessions for conferences, and I was able to speak in front of 500 women in architecture and serve on the board of SoCal NOMA [National Organization of Minority Architects]. All of these opportunities wouldn't be possible if it wasn't for the work I was doing in the fellowship, and for VCHC to give me the freedom to do this work, I wouldn't be able to do what I love and to grow."
Nicholas Forest, Quest Community Development Organization, Atlanta, GA
About his role in the development of housing in Atlanta's gentrifying West Side, Nick told us it is important to:
"Build within the community in a way that reflects that community's identity, not just to retain the culture, but also provide a safe haven for those individuals in that community. I think it's even more important now to have those types of spaces for Black people and people of color so that they can feel safe in a place where they are all seen."
And of his experience in the Rose Fellowship and his future plans:
"The fellowship has re-ignited a passion to do this work, but also given me the tools to figure out how I can do that work and has provided me with the resources and the network to accomplish this type of work. How do I create spaces that sustain and maintain a culture community culture and identity for the people that live there in that community?"
Deborah Lin Perez Centeno, Atlanta Habitat for Humanity, Atlanta, GA
About the pride, power and belonging that the community engagement and community capacity building process developed in the community, which already harbored skepticism and distrust of new development:
"After the community engagement and capacity building activities, the community had the language to describe and show their curiosity, and this gave them a different way of analyzing their community. They were able to inform us about things that they hadn't thought of before."
Chau Pham, Ithaca Neighborhood Housing Services, Ithaca, NY
On the importance of creating design guidelines that can be used to streamline the development process, be shared with property management teams who maintain the process, and provide better living experiences for residents:
"One of the lessons I have learned during the fellowship, that I didn't have the opportunity to learn in my previous role at an architecture firm, was that a post-construction feedback loop allows us to constantly improve our projects, and in turn, make the lives of the people who live there better." 
Joe Bowes, the Director of Real Estate Development for INHS, said this about having Chau as a fellow at their organization:
"How enlightening it's been for us, in a lot of ways, to see the other side of the architect's table and to have her work with us." 
With the property management and finance teams, Chau's relationship building was able to demonstrate that, "we in real estate development do care, we actually care enough to have found someone who has this expertise and really wants to talk to you and to see what challenges you were going through, and to be the conduit to change what we do and how we do it." 
Lindsey Briceno, EPICENTER, Green River, UT
The responsibility and the role architects play in equitable community development:
"I think that there needs to be more accountability within the whole system of community development. The world of affordable housing feels like it's shifting there, there seems to be changes toward more equitable development. The role of the architect within that process really needs to be held accountable to the ideologies that are learned and practiced by Rose Fellows."