Linda Manley
SVP, Chief Legal Officer
Linda Schechter Manley is chief legal officer (CLO) of Enterprise Community Partners, where she leads the legal function across all of Enterprise's divisions.

Prior to joining Enterprise, Linda was general counsel for New York State Homes and Community Renewal (HCR) where she was responsible for the leading HCR's Legal Divisions, Fair and Equitable Housing Office, Tenant Protection Unit, and Internal Controls Department.
Before joining HCR in January 2016, Linda was legal director at Lawyers Alliance for New York, providing legal services to nonprofit organizations focused on affordable housing, economic development and social services.
Linda previously practiced law at the firms Jones, Day, Reavis & Pogue and Weil; and Gotschal & Manges and served as a law clerk to Hon. Loretta A. Preska in the Southern District of New York.
She received her J.D. from Fordham University School of Law and bachelor's degree, magna cum laude from State University of New York at Albany. Linda serves as Governance Chair for the Violence Intervention Program and on the Board of Advisors for The Tricarico Institute at New York Law School.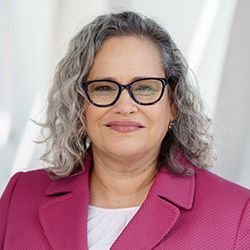 Office Location
New York City
1 Whitehall Street
New York, NY 10004