Jimar Wilson
VP, Southern California Market
Jimar Wilson is vice president and Southern California market leader for Enterprise Community Partners.
Jimar oversees Enterprise's affordable housing, community development, investment and strategic programs from the state's Central Coast to San Diego. Since 1997, we have invested more than $3.3 billion in the region, creating and preserving more than 38,000 affordable homes, delivering impactful technical assistance and capacity building to both our public partners and developers and working with key stakeholders to achieve the systems change that is needed to address the severe housing crisis.
Jimar serves on the board of directors of Crenshaw Family YMCA, Ebony Repertory Theatre and A Step to Freedom. He also serves on various committees such as the LA Funders Collaborative Steering Committee and Committee for Greater L.A. Previous board and advisory appointments include Holman Community Development Corporation, 100 Black Men of Los Angeles, The Fringe at Center Theatre Group (now The Crew) and John M. Langston Bar Association. Jimar is an adjunct assistant professor in community and economic development at Los Angeles Trade-Technical College.
A 20-year community development veteran and passionate advocate for racial equity and social justice, Jimar has previously worked as the vice president and CRA officer at American Business Bank, Boston Private and Northern Trust. Jimar holds a master's degree in city planning from the Massachusetts Institute of Technology (Public Policy and International Affairs Fellow) and a bachelor's degree from the University of California, Berkeley. He is also a graduate of the Ross Minority Program in Real Estate at the University of Southern California.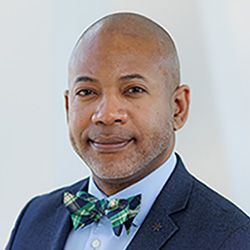 213.787.8215
Office Location
Los Angeles
700 South Flower St.
Los Angeles, CA 90017