Jacqueline Waggoner
President, Solutions Division
Jacqueline Waggoner is president of the Solutions division at Enterprise Community Partners.
Jacqueline leads a talented team of over 300 across the country supporting community development organizations with funding, programs and technical assistance while advancing housing policy at every level of government. 
Prior to her promotion to president in October 2020, Jacqueline was vice president and Southern California market leader. She led Enterprise's affordable housing, community development, investment and strategic programs serving the state's Central Coast to San Diego, with a particular focus on the Los Angeles region.
Jacqueline started with Enterprise in 2005. During her tenure, she has deployed capital, intellectual resources and capacity building tools to achieve Enterprise's strategic and production goals, leading to more than $1.3 billion in Enterprise investments locally. With her experience in commercial real estate lending spanning more than 24 years, she has worked with the city of Los Angeles, banks and nonprofit developer partners to create local funds for affordable housing, advocate for low-income families and advance Enterprise's vision of providing affordable homes in vibrant communities.
Jacqueline serves on a number of public, nonprofit and coalition boards, including the Los Angeles Homeless Services Authority Commission (vice chair) and its Ad Hoc Committee on Black People Experiencing Homelessness (chair), the UCLA Luskin School of Public Affairs, the Los Angeles Business Council and the Committee for a Greater LA. A Los Angeles native, she holds a bachelor's degree in sociology and a master's degree in urban planning from UCLA.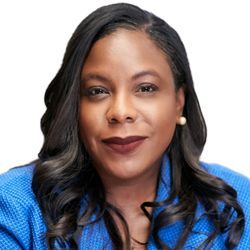 213.833.7988
Office Location
Los Angeles
600 Wilshire Blvd.
Los Angeles, CA 90017