Monica Gonzalez is a senior program director always quick to point out that, by training, she's an iron-willed social worker, wired to help. Fifteen years ago, this native Texan relocated her Lone Star-sized heart to New Orleans in the immediate aftermath of Hurricane Katrina.
With the coronavirus pandemic tragically gripping New Orleans and the state of Louisiana especially hard, today Gonzalez is once again in full-on disaster recovery mode.
"Just as we were winding down Hurricane Harvey relief efforts, and just after we had finished Mardi Gras, news about the spread of the coronavirus started appearing," she said. "And we knew that we were going to be in trouble."
Image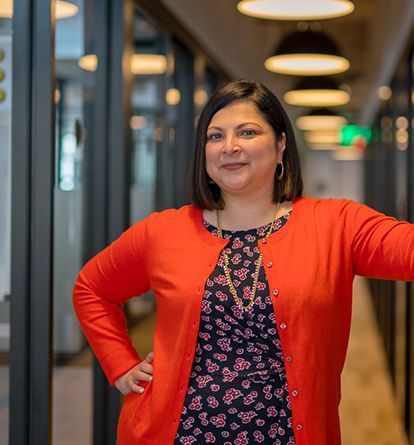 As part of Enterprise's affordable housing and community development team serving the Gulf Coast market, Gonzalez directs programming at the Sojourner Truth Neighborhood Center. The thriving community hub – named after the African-American abolitionist and women's rights activist – serves the greater Faubourg Lafitte housing development bordering the city's French Quarter.
"We decided to suspend the center's operations completely because things were going downhill quickly," said Gonzalez, citing the rapid spread of the outbreak.
Ensuring Food Security for Seniors
Closing the popular center was a tough call, knowing that many children, families and seniors relied on Sojourner Truth's varied services, including a weekly distribution of hot lunches to upwards of 60 seniors.
To ensure food security amid the public health crisis, Gonzalez arranged for seniors, their families and neighbors to retrieve the commodities while practicing physical distancing. "I showed up on Friday at 8:30 and there were seniors lining up already," she said. "Get people in and get them out – that was our goal."
But as the outbreak worsened and new Covid-19 guidance emerged, onsite pick-up and distribution were no longer feasible. Thanks to partnerships with Catholic Charities and Second Harvest, however, Lafitte seniors now have access to hot meals delivered directly to their homes. Through a separate pilot program, 130 seniors from Lafitte development and the adjacent area receive weekly deliveries of foods, including red beans and rice, beef stew, and canned chicken, tuna and vegetables.
A senior coordinator contacts Lafitte's seniors regularly, checking for symptoms and that they're OK. "Isolation can take a heavy toll on seniors' mental and physical health. So just having somebody they can talk to on a daily or every-other-day basis has been something they appreciate," said Gonzalez.
Image
Children and seniors enjoying some of the Sojourner Truth Community Center's varied activities before the pandemic.
Sojourner Truth also serves Lafitte-area youth, with many relying on the center's computer lab and tutoring support. "I know our kids don't have internet or laptops so that's been really hard because we know a lot of children are being left behind," said Gonzalez, hopeful that the center's annual summer camp can still continue.
Drawing on Experience
Many critical efforts underway like food banks, phone trees and coordinating with hotels to provide shelter were critical after Hurricane Harvey and took root post-Katrina, when in 2005 Enterprise began its recovery and rebuilding work in the Gulf Coast amid the loss of 300,000 affordable homes.
That the coronavirus crisis arrived on the brink of Katrina's 15th anniversary is adding to the post-traumatic stress that many residents had already begun to experience in advance of the looming milestone, said Gonzalez. She noted the recent news that the New Orleans convention center would be outfitted with hospital beds as part of the city's Covid-19 response. More than 25,000 people sought shelter at the Morial Convention Center when Katrina struck.
Peer Guidance and Encouragement
As the entire national Enterprise team has moved into emergency response mode, colleagues say they wish they could clone Gonzalez and her disaster recovery knowhow. Tirelessly sharing her knowledge and experience, she emphasizes the following guidance:
Communicate often. We can't be in the office, but we want residents and partners to know we're there for them and able to help navigate complicated forms and systems.
Be thoughtful. Think carefully through every strategy and the implications for staff, residents and partners.
Practice patience. There are no quick fixes when it comes to disaster recovery.
Even as Gonzalez and her Gulf Coast colleagues address food and housing emergencies and facilitate disaster case management, she knows the threat of economic and mental health fallout lies ahead and will require continued vigilance and an enduring commitment.
"Recovery is never fast, whether it's a natural disaster or a global pandemic," she said. "So, we have to be in it for the long haul."
Now more than ever, hope counts as the world contends with the distress and disruption wrought by the pandemic. If you have story to share here about a person or community stepping up and making a difference in small and large ways, please reach out to Nicole Gudzowsky.