I am honored to share that I've been appointed to U.S. Secretary of Energy Granholm's Secretary of Energy Advisory Board (SEAB).
Image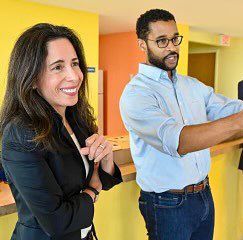 With this role comes the invaluable opportunity to make sure that every community and neighborhood has a voice in the conversation about our climate crisis, particularly marginalized communities of color that too often bear the negative impacts of climate change.
Energy Justice: A Cornerstone in Our
Equitable Path Forward
The Department of Energy has committed to lifting up communities of color and neighborhoods in lower income brackets since they've borne the brunt of the effects of climate change. They plan to ensure those who have suffered most will be the first to benefit from climate investments.
Through our resilience and recovery work in frontline communities in the states, Puerto Rico and the U.S. Virgin Islands, we are well-positioned to represent those voices in this vital dialogue. We've worked directly with partners in communities impacted by fires, floods, hurricanes and other climate disasters, and we've written the book – literally – on building a more resilient future in these regions.
But our work goes far beyond recovery. We're making sure that affordable homes are ready for a future where energy-efficiency and disaster-resilience are critical.
Setting the Standard

for Efficient Affordable Homes

Enterprise Green Communities is the only national green building program created with and for the affordable housing sector, and our results speak for themselves.

Homes rehabilitated or newly constructed to Enterprise Green Communities standards are saving building owners and residents more than $28 million annually.

But it goes beyond the financial impacts. We're racing against the clock to make an impact on the climate crisis, and we know that our Green Communities work is doing exactly that.

In a single year, those rehabbed or newly built homes are saving more than 213,000 megawatts of electricity – enough to power 20,000 homes for an entire year. And we're avoiding tens of thousands of tons of carbon emissions, which has the same effect as taking nearly 20,000 cars off the road each year.

But you don't need to rely on our past performance to know that I'll represent our industry well on this advisory board. Check back here for updates as we work together toward a more just and equitable future for all communities nationwide.