Enterprise launched the New Orleans Community Development Organization (CDO) Fund in 2021 with support from the Kresge Foundation, Ford Foundation, WK Kellogg Foundation, JPMorgan Chase, Greater New Orleans Foundation and Capital One. This initiative provides critical operating support and technical assistance to Black, Indigenous and people of color (BIPOC)-led nonprofits.
As anchors of their neighborhoods, these groups use the funding to enhance their work and support their communities throughout the recovery from Covid-19 and Hurricane Ida. We checked in with two organizations on how the CDO fund supported their work in the Lower 9th Ward.
Lower 9 Food, Music and Community Resource Festival
In August, CDO Fund grantee and cohort member Lower 9th Ward Homeownership Association (L9WHA) hosted the inaugural Annual Lower 9 Food, Music & Community Resource Festival. 
The festival celebrated the historic neighborhood's culture as well as connected community members with needed resources. In keeping with the spirit of community, the L9WHA collaborated with residents and neighborhood groups to host the festival and resource fair.
"The event stemmed from the need to create awareness about available community resources," L9WHA Executive Director Gaynell Brady said. "We are beyond excited to be able to bring this experience to the city and the residents of our community."
Along with four hours of incredible music, food and activities, an estimated 500 festivalgoers were able to connect with over 90 businesses, community groups and government agencies. These organizations offered health screenings, family activities and pertinent information regarding access to homeownership opportunities.   
"The Lower 9th Ward is known as a strong community, self-sufficient, with a history of perseverance. In the past, every service you needed could be found in the community, and residents of the community depended on each other for access to resources. I love the Lower 9 because this history is embedded into the fabric of the community," Brady said.
Sankofa CDC and USDA Dedicate the People's Garden
In September, CDO Fund grantee and cohort member Sankofa Community Development Corporation (Sankofa CDC) dedicated Louisiana's first People's Garden located in the Lower 9th Ward at 5029 St. Claude Court at North Rampart. 
Image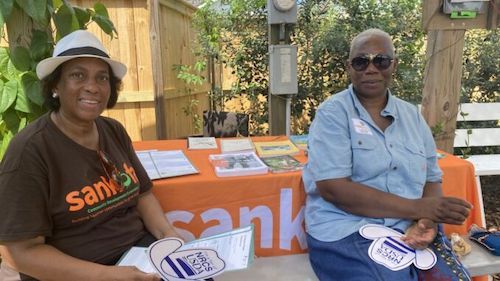 The first-of-its-kind garden in the city was a result of a partnership with Sankofa CDC, the United States Department of Agriculture (USDA) and the Natural Resources Conversation Service (NRCS). The People's Garden will help the community to grow fresh and healthy food.
"We are beyond thrilled to be selected as Louisiana's first People's Garden by the USDA and NRCS," said Sankofa CDC Founder and CEO Rashida Ferdinand. "The dedication of the Sankofa Community Development Garden supports our organizational goal of creating a local environment that promotes positive health outcomes and builds healthier communities for generations to come." 
The Lower 9th Ward People's Garden is now one of 17 flagship gardens in urban cities across the nation. The ability to understand where and how your food is grown is a privilege some residents do not have, but with this partnership, they are now physically able to access fruits and vegetables that promote healthier lifestyles, Ferdinand explained.