A recent NY Times article highlights the severe financial impacts the coronavirus recession is likely to have on cities across the country. Revenue shortfalls and the precipitating economic pain these cities will likely experience come on top of extraordinary leadership challenges wrought by the Covid-19 pandemic. According to the NY Times analysis, cities most likely to be hardest hit are those who rely on tourism, sales tax or state aid for their revenue, regardless of the city leadership's party affiliation or how well their budgets are managed.
That's why local decisionmakers are under incredible strain. Livelihoods have been upended or altered beyond recognition for many of us. And stark recent examples of racial injustice have led to a long overdue reckoning of the impact of systemic racism on the lives of Blacks and other people of color, compelling local leaders to step up to address racial equity in their communities.
How could mayors and other city leaders have prepared for such an overwhelming set of challenges? For those of us who have long supported them in making change to improve their cities, the answer is clear – they couldn't. And no single leader can be expected to handle these challenges alone. But cities – through cross-sector partnerships and innovative approaches – can propel themselves toward a more resilient and equitable future. The best leaders know that they need collaboration across city departments and among the local private, public and nonprofit sectors to address their challenges and pursue comprehensive solutions that will leave their cities in a better place than before the crisis.
Equitable recovery cannot be achieved through a piecemeal approach; it must consider how policy, capital and capacity influence disparate outcomes. Addressing the structural drivers of inequity requires a strategy that considers how these factors are interconnected across sectors. Enterprise and its partners have extensive experience in helping cities navigate this cross-sector approach through its participation in the National Resource Network (the Network) and other place-based initiatives. Since 2013, the Network has helped over 70 cities in 22 states address some of their deepest challenges through a cross-sector approach that puts the needs of communities at the center.
Empowering Leaders to Recover Equitably
Network partners are taking what we've learned and piloting a new assessment-based approach to equitable recovery. Enterprise, together with PFM, HR&A, JFF and StriveTogether are launching an Equitable Recovery Assessment Pilot in a handful of cities this fall to test models for empowering local leaders to take on the multifaceted challenges of the pandemic. Based on our research and experience, we have identified five impact areas where cross-sector collaboration is critical for an equitable recovery from the economic crisis caused by Covid-19.
Image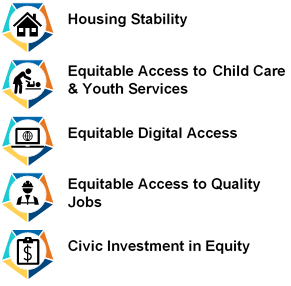 Network partners bring deep cross-disciplinary expertise, allowing us to assess cities from multiple vantage points and identify cross-sector opportunities for equitable recovery. Pilot cities will be identified, and our impact areas will be complemented by a data snapshot for each city that will be contextualized through a Covid Local Risk Index generated by the City Health Dashboard – a product of New York University created in partnership with the Network.
Pilot Partnerships
We know that the path to recovery is not easy and that equity is not a fixed destination. Enterprise and our partners are committed to empowering local leaders to take on their most pressing challenges by leveraging their city's strengths and blazing a more equitable and resilient path forward.