In June, Enterprise launched a five-part webinar series to help Black, Indigenous and people of color (BIPOC) organizations expand their capacity and become better prepared to use funding and investments to preserve and create affordable homes. Building upon the success of the webinars, another series is planned for early 2022. 
These educational webinars are part of our Developer Advisory Services, one of three pillars of Equitable Path Forward (EPF). EPF is a five-year, $3.5 billion nationwide initiative to help dismantle the deeply-rooted legacy of racism in housing – from the types of homes that are built and where they're built to who builds them and the wealth they generate.
For more information, contact Matt Morrin.
Equitable Path Forward Webinar Series
Image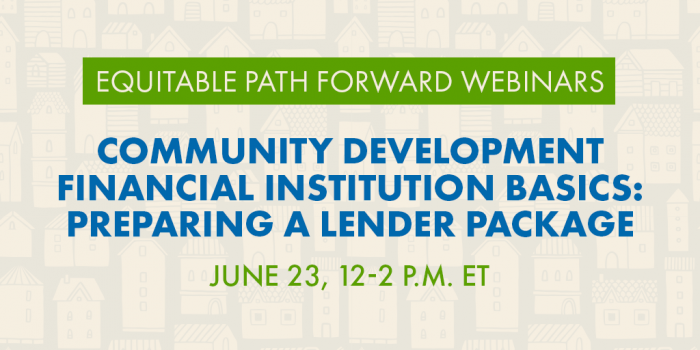 Community Development Financial Institution Basics
Preparing a Lender Package: Borrower and Lender Expectations for Informed Credit Decisions
Learn how to prepare a finance request to a community development financialinstitution (CDFI). Delivered by our in-house lending team from Enterprise Community Loan Fund, this webinar is geared to new and seasoned developers interested in understanding how to prepare a lending package and the underwriting process required to gain credit approval.
Presenters;
Sharon Bollers, Senior Loan Officer, Enterprise Community Loan Fund
Josh Griff, Senior Loan Officer, Enterprise Community Loan Fund
Topics
CDFI financing products for pre-development
Acquisition and working lines of credit
Due diligence
Financial statements for borrower and projects
Articulating a loan request in terms of specific purpose, term and repayment scenarios
Guarantees
Collateral quality
Risk assessment
---
Image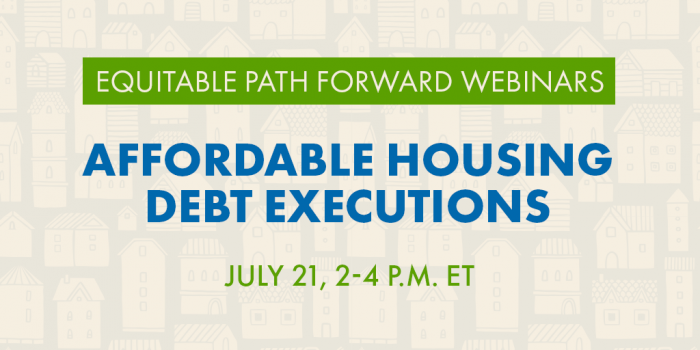 Affordable Housing Debt Executions
The state of affordable housing finance requires developers to think strategically on how best to finance their projects. Understanding the complexity of structuring options and sizing/executing the construction and/or permanent debt for a multi-family affordable deal is key to structuring the overall capital for a project, along with any anticipated tax credit equity and subsidy needed to maintain a project's long-term affordability. 
This informative session delivered by Bellwether Enterprise staff will review options for the affordable rental housing class including an overview on using FHA, Fannie Mae, Freddie Mac, and Direct Purchase debt structures. The team will also discuss debt options for Seniors Housing and Care assets.  This primer will include timely information on benefits and challenges associated with financing options, operating and development budgets, gross rents on affordable transactions with restrictions, understanding the role of Low-Income Housing Tax Credit equity and Housing Assistance Payments (HAP) Contracts, and "no vs go" decisions in determining project feasibility. 
Presenters
Lundat Kassa, Vice President, Bellwether Enterprise
Anthea Martin, Senior Vice President, Bellwether Enterprise
---
Image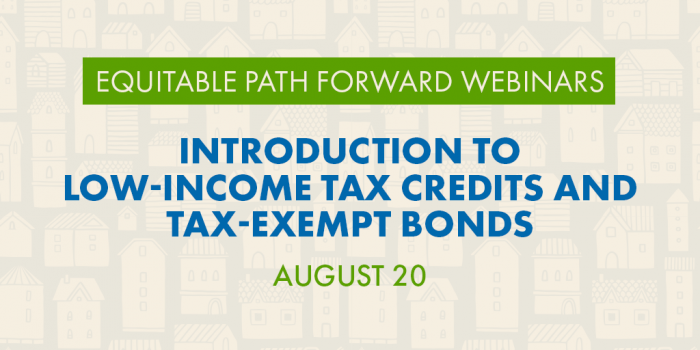 Introduction to Low-Income Housing Tax Credits and Tax-Exempt Bonds
The Low-Income Housing Tax Credit (LIHTC) is a complex but crucial tool for subsidizing the acquisition, construction and rehabilitation of affordable rental housing. Through this program, private investors receive a federal income tax credit as an incentive to make equity investments in affordable rental housing. Since 1986, nearly 3 million affordable homes have been placed in service.
This webinar will outline the basics of the LIHTC program, including how it works, the process by which credits are allocated, the various partners involved, how financing is structured, how investors benefit from the program and tenant characteristics properties. Enterprise Community Development and Enterprise Investment staff will share insights and expertise from both a developer and tax credit syndicator perspective, along with highlights of the program's successes and challenges.
Presenters
Shelynda Brown, Vice President, Enterprise Community Development                                    
Jonathan Peterson, Real Estate Financial Analyst, Enterprise Housing Credit Investments
---
Image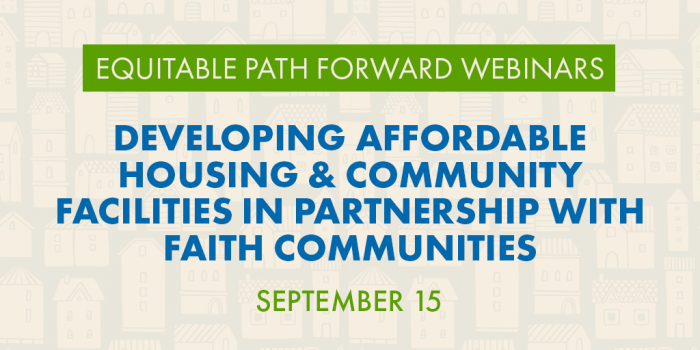 Developing Affordable Housing and Community Facilities in Partnership With Faith Communities
Recent analysis by the Urban Institute revealed that in the Mid-Atlantic region alone, there are 800 vacant parcels owned by houses of worship in just four jurisdictions that could potentially catalyze the development of between 49,000 and 109,000 homes.
Join Enterprise and our faith-based partners for an interactive session featuring successful partnerships to develop affordable housing and community facilities. The agenda will include sharing lessons learned by Enterprise and its partners during the first 15 years of the Faith-Based Development Initiative, a special highlight from attorneys providing best practices for faith communities to ensure their interests are protected, case studies highlighting successful projects, and a candid Q&A session with experienced partners sharing insights on what it really takes to bring these projects to fruition.    
Presenters
Reverend Joseph K. Williams, Senior Program Director, Enterprise Community Partners
Canon Leonard L. Hamlin, Washington National Cathedral                                                    
Lloyd J. Jordan, Esq., Executive Partner, Motley Waller LLP (Invited)
---
Image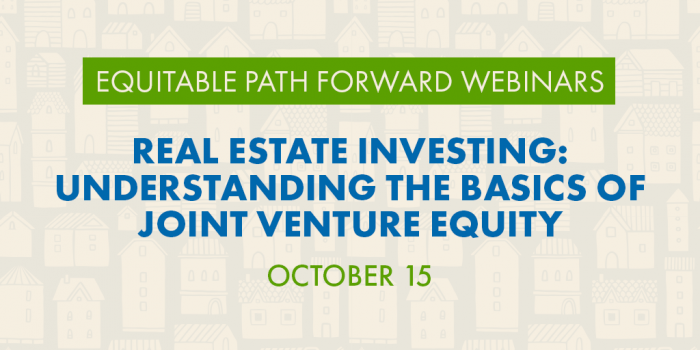 Real Estate Investing: Understanding the Basics of Joint Venture Equity
Financing real estate using a joint venture (JV) structure can be complex, with many developers and investors lacking a basic understanding of some of the considerations that go into such a partnership. In real estate, an equity joint venture is a legal partnership between two or more individuals or entities (each a "partner") to jointly acquire and/or develop a property. 
Each partner typically brings a unique skill set or ability to the partnership. Often one partner brings access to the investment and day-to-day oversight responsibility, while the other might bring the majority of the capital and be more passively involved in the investment.
As most large real estate projects require financing that involves real estate operators to work with real estate capital providers, understanding the mechanics behind a JV arrangement is important for all involved. These joint ventures are a critical part of the process, as they can allow commercial real estate projects to be feasible and get off the ground.
This webinar will discuss joint venture practices for successful transactions, including role of capital and operating partner, equity positions, limited partner and sponsor roles, cash flow priorities for proceeds and distributions and internal return requirements. The webcast will feature perspectives from Enterprise's Capital Division along with case examples culled from actual transactions.
Presenter: Christopher Herrmann, Senior Vice President, Enterprise Community Investment