August 22, 2018
Early Start on Success: Spotlight on Home & Hope
We see it often in the news: "Seattle needs more affordable housing." But here's what these headlines don't ask: "Do we have enough critical space for preschools and child care centers?" Like housing, early education is also a crucial determinant in long-term academic success, which in turn impacts health outcomes and income potential.
At Enterprise, we have always worked to make well-designed homes affordable. We were founded on the premise that a home is more than a shelter – it's a platform, life's staging area, the first critical rung on the ladder to opportunity. But those homes need to be connected to community resources like health care, education, jobs and transportation.
Home & Hope is a program to facilitate the development of affordable housing and early childhood education centers on underutilized, tax-exempt sites owned by public agencies and nonprofits in King County, Washington. We are bringing together a working coalition of early childhood educators, housing providers, elected officials, philanthropic organizations and public stakeholders to help create more homes like that of Xochitl Rojas.
---
Watch: Xochitl tells her story – plus hear from Enterprise and our partners – in our Annual Report
---
Xochitl lives at Plaza Roberto Maestas, El Centro de la Raza's recently completed affordable home community in southeast Seattle. Located just north of the Beacon Hill Link Light Rail Station, residents have access to a vital connection to the city. Additionally, the Jose Marti Child Development Center occupies the ground floor, enabling working families to pursue opportunities with the safety and growth of their children assured.
Xochitl says that since moving in with her family, they've been able to focus on working and what it takes to get a good job and move up. "It allowed us to stabilize and focus on finding good, long-term career work instead of just emergency work." She has traded commutes of two-plus hours for more time with her children, a good deal for her family's well-being, and is now well on her way to becoming a nurse.
Motivated by the example of Plaza Roberto Maestas and inspired by those who call it home, we at Enterprise are exploring ways to replicate this confluence of solutions in other Seattle locations. Could we have preschools and childcare centers connected to affordable housing at every light rail station?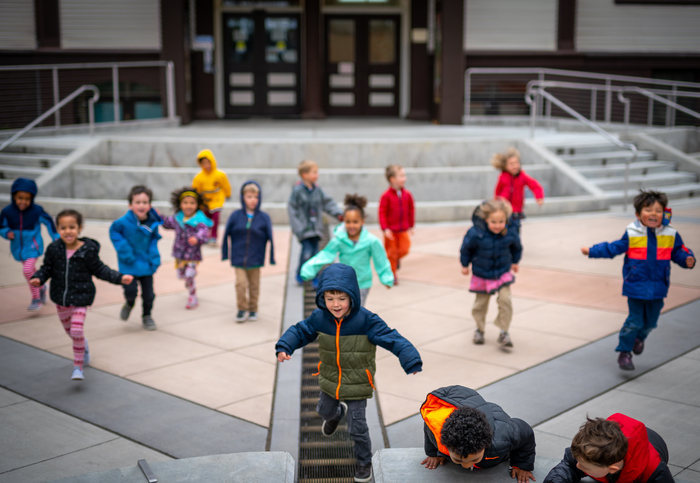 It's a vision of an equitable Seattle, where people like Xochitl and her family can thrive. Living at Plaza Roberto Maestas has set her family on a positive path and renewed her sense of optimism: "If the basic human needs are met, people are generally good and can flourish. That's the heart of this place. All those needs being met, that's what gives growth to the family."
Resources
Home & Hope site mapping tool: Filter tax-exempt sites within King County's urban growth area based on criteria that are important for the siting of homes and early learning centers.  
Home & Hope: Creating Early Learning and Affordable Housing Together: Our report provides critical takeaways beyond King County for communities across the country. We leveraged the expertise of designers, developers, educators, policymakers and funders to offer insights that guide the development process from site selection to finance, design and, finally, operation.

Home & Hope is made possible with the generous support of the Bill & Melinda Gates Foundation and the City of Seattle.